Genetic stability of in vitro conserved germplasm of Humulus lupulus L.
Peredo, Elena L; Arroyo-García, Rosa; Reed, Barbara M; Revilla, M. Ángeles (2009)
---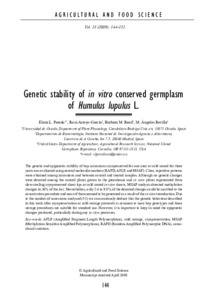 Peredo, Elena L
Arroyo-García, Rosa
Reed, Barbara M
Revilla, M. Ángeles
Julkaisusarja
Agricultural and Food Science
Volyymi
18
Numero
2
Sivut
144-151
MTT Agrifood Research Finland The Scientific Agricultural Society of Finland
2009
Julkaisun pysyvä osoite on
http://urn.fi/URN:NBN:fi-fe2015090311187
Tiivistelmä
The genetic and epigenetic stability of hop accessions cryopreserved for one year or cold stored for three years was evaluated using several molecular markers (RAPD, AFLP, and MSAP). Clear, repetitive patterns were obtained among accessions and between control and treated samples. Although no genetic changes were detected among the control plants grown in the greenhouse and in vitro plants regenerated from slow-cooling cryopreserved shoot tips or cold stored in vitro shoots, MSAP analysis detected methylation changes in 36% of the loci. Nevertheless, only 2.6 to 9.8% of the detected changes could be ascribed to the conservation procedure and most of them seemed to be generated as a result of the in vitro introduction. Due to the number of accessions analysed (51) we can cautiously deduce that the genetic behaviour described in this work after cryopreservation or cold-storage protocols is common to most hop genotypes and these storage procedures are suitable for standard use. However, it is important to keep in mind the epigenetic changes produced, particularly during any in vitro processes.
Collections