Stochastic multicriteria acceptability analysis as a forest management priority mapping approach based on airborne laser scanning and field inventory data
Rana, Parvez; Vauhkonen, Jari (2023)
---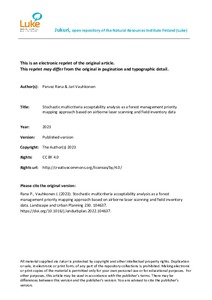 Rana, Parvez
Vauhkonen, Jari
Julkaisusarja
Landscape and Urban Planning
Volyymi
230
Sivut
13 p.
Elsevier BV
2023
Julkaisun pysyvä osoite on
http://urn.fi/URN:NBN:fi-fe2022111866163
Tiivistelmä
The mapping of ecosystem service (ES) provisioning often lacks decision-makers' preferences on the ESs provided. Analyzing the related uncertainties can be computationally demanding for a landscape tessellated to a large number of spatial units such as pixels. We propose stochastic multicriteria acceptability analyses to incorporate (unknown or only partially known) decision-makers' preferences into the spatial forest management prioritization in a Scandinavian boreal forest landscape. The potential of the landscape for the management alternatives was quantified by airborne laser scanning based proxies. A nearest-neighbor imputation method was applied to provide each pixel with stochastic acceptabilities on the alternatives based on decision-makers' preferences sampled from a probability distribution. We showed that this workflow could be used to derive two types of maps for forest use prioritization: one showing the alternative that a decision-maker with given preferences should choose and another showing areas where the suitability of the forest structure suggested different alternative than the preferences. We discuss the potential of the latter approach for mapping management hotspots. The stochastic approach allows estimating the strength of the decision with respect to the uncertainty in both the proxy values and preferences. The nearest neighbor imputation of stochastic acceptabilities is a computationally feasible way to improve decisions based on ES proxy maps by accounting for uncertainties, although the need for such detailed information at the pixel level should be separately assessed.