Consumer housing values and prejudices against living in wooden homes in the Nordic region
Lähtinen, Katja; Häyrinen, Liina; Roos, Anders; Toppinen, Anne; Aguilar Cabezas, Francisco; Thorsen, Bo; Hujala, Teppo; Nyrud, Anders; Hoen, Hans (2021)
---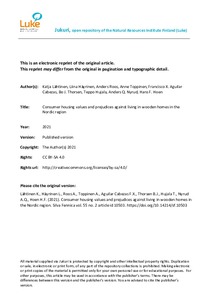 Lähtinen, Katja
Häyrinen, Liina
Roos, Anders
Toppinen, Anne
Aguilar Cabezas, Francisco
Thorsen, Bo
Hujala, Teppo
Nyrud, Anders
Hoen, Hans
Julkaisusarja
Silva fennica
Volyymi
55
Numero
2
Sivut
27 p.
Suomen metsätieteellinen seura
2021
Julkaisun pysyvä osoite on
http://urn.fi/URN:NBN:fi-fe202103318989
Tiivistelmä
So far, consumer housing values have not been addressed as factors affecting the market diffusion potential of multi-storey wood building (MSWB). To fill the void, this study addresses different types of consumer housing values in Denmark, Finland, Norway, and Sweden (i.e., Nordic region), and whether they affect the likelihood of prejudices against building with wood in the housing markets. The data collected in 2018 from 2.191 consumers in the Nordic region were analyzed with exploratory factor analysis and logistic binary regression analysis. According to the results, consumers' perceptions on ecological sustainability, material usage and urban lifestyle were similar in all countries, while country-specific differences were detected for perceptions on aesthetics and natural milieus. In all countries, appreciating urban lifestyle and living in attractive neighborhoods with good reputation increased the likelihood of prejudices against wood building, while appreciation of aesthetics and natural milieus decreased the likelihood of prejudices. In strengthening the demand for MSWB and sustainable urbanization through actions in businesses (e.g., branding) and via public policy support (e.g., land zoning), few messages derive from the results. In all, abreast with the already existing knowledge on the supply side factors (e.g., wood building innovations), more customized information is needed on the consumer-driven issues affecting the demand potential of MSWB in the housing markets. This would enable, e.g., both enhancing the supply of wooden homes for consumers appreciating urban lifestyle and neighborhoods and fortifying positive image of wood among consumers especially appreciating good architecture and pleasant environmental milieus.