The Finnish Bioeconomy Beyond Growth
Vezzoni, Rubén; Ramcilovic, Sabaheta (2023)
---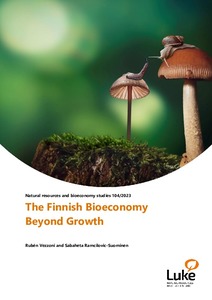 Vezzoni, Rubén
Ramcilovic, Sabaheta
Julkaisusarja
Luonnonvara- ja biotalouden tutkimus
Numero
104/2023
Sivut
43 p.
Luonnonvarakeskus
2023
All rights reserved. This publication is copyrighted. You may download, display and print it for Your own personal use. Commercial use is prohibited.
Julkaisun pysyvä osoite on
http://urn.fi/URN:ISBN:978-952-380-817-1
Tiivistelmä
This report introduces post-growth and degrowth literature and arguments to position the Finnish bioeconomy within the existing alternatives to the increasingly challenged idea of green growth.
The bioeconomy has emerged as a central pillar of Finland's economic policy since the early 2010s. The current Bioeconomy Strategy of the Finnish Government aims to double the bioeconomy by 2035 by shifting the focus from production volumes to value added. Accordingly, the objective is to accelerate the yearly growth of the bioeconomy from 3% up to 6%, without exacerbating environmental degradation. The dominant bioeconomy visions, both in Finland and elsewhere, hinge on the possibility of green economic growth: that is, decoupling ecological destruction from economic growth through technical innovation, circularity, and other forms of process upgrading.
While empirical research shows several cases of relative decoupling, these are often limited to single environmental indicators, short periods of time, and/or territorially defined national economies. On the contrary, absolute decoupling that is global and sufficiently large and fast is empirically unsupported and, therefore, unlikely within the current mindsets, values, praxis and models of development. Drawing on the burgeoning scientific literatures questioning the possibility of green growth, we argue that the Finnish bioeconomy policy targets lack robust empirical evidence, and we call for the relevant actors to revisit the current bioeconomy strategy and reconsider the assumptions of green growth.
In this report, building on postgrowth and degrowth propositions and arguments, we discuss the feasibility, modalities, and desirability of alternative pathways to growth-centred approaches. After having reviewed the main strands of degrowth policy, we introduce them to the Finnish case to lay out the preliminary outline of a transformation from a growth-centred economy to a society free from the imperatives of growth, endless expansion, and accumulation.
To avoid further economic insecurity and deprivation of marginalised groups, a post-growth bioeconomy requires (i) embracing onto-epistemic justice and plurality, together with unlearning oppressive and extractive practices; (ii) rapidly descaling harmful activities and sectors together with embracing simplicity and slower-paced lifestyles; (iii) re-centring economic provisioning around socio-ecological well-being and economic justice; (iv) democratising economic practices, both nationally and internationally, by pulling the bioeconomy out of the corporate grip.
These suggestions are not to be used as a blueprint, but as guiding principles. Their operationalisation requires fostering public dialogue, democratic deliberation and ground-up institution building to imagine and codesign more realistic, equitable, and collectively desired futures beyond growth and socioecological violence. As a preliminary discussion, introducing the problems of the current bioeconomy based on green growth, and the potential models and paradigms beyond growth, the report lays out the foundation for imagining and codesigning more specific pathways towards socio-ecologically viable and just post-growth bioeconomy and post-growth futures in Finland.