Caring for people and nature: A Summary Report on Green Care and place-based sustainability in Finland
Moriggi, Angela; Soini, Katriina; Vehmasto, Elina; Roep, Dirk; Secco, Laura; Uosukainen, Maria (2023)
---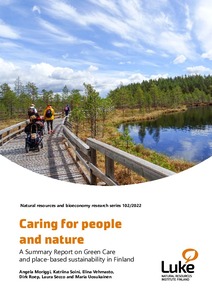 Moriggi, Angela
Soini, Katriina
Vehmasto, Elina
Roep, Dirk
Secco, Laura
Uosukainen, Maria
Julkaisusarja
Luonnonvara- ja biotalouden tutkimus
Numero
102/2022
Sivut
57 p.
Luonnonvarakeskus
2023
Julkaisun pysyvä osoite on
http://urn.fi/URN:ISBN:978-952-380-566-8
Tiivistelmä
THIS REPORT'S HIGHLIGHTS
About Green Care in Finland:
Green Care is a growing phenomenon in Finland, with almost 800 service providers. It covers a wide range of diversified services and is distributed evenly across the provinces;
The Green Care Finland Association has over 500 members and is the largest network of Green Care professionals currently operating at national level in Finland. Since 2010, it has contributed to the development of the field through networking, development, training, and certification activities;
According to the Green Care Finland Association, Green Care practices include: i) therapy and rehabilitation services, ii) health and wellbeing promotion services, iii) foster and education services, iv) supported wellbeing promotion activities, and v) voluntary and self-motivated recreation activities;
In order to guarantee the quality and legitimacy of services, the Green Care Finland Association currently certifies service providers with two different 'Quality Marks'— 'Nature Care' and 'Nature Empowerment'. These certifications help prospective clients select services that align with their needs and expectations;
Green Care practices have the potential to support Finland's national sustainable development strategy (titled "The Finland We Want by 2050"). The strategy is aligned with several Sustainable Development Goals (SDGs), including, health and well-being (SDG 3), reduced inequalities (SDG 10), responsible consumption and production (SDG 12), and life on land (SDG 15).
The COVID-19 pandemic has highlighted the potential of Green Care practices to promote human well-being; over the last few years, Finnish citizens have engaged in more outdoor recreation due to restrictions on mobility and social activities

About caring in Green Care:
From an 'ethics of care' perspective, caring is a process, rather than a one-time intervention. Caring is made tangible through practices and inspired by values and ethics. It always involves relationships, underscoring humans' interdependence with other humans and with the natural world;
In order to understand why and how Green Care practitioners do what they do, it is helpful to notice all the caring practices they perform. Green Care are often part of a broader set of activities linked to supporting and appreciating place-based sustainability;
In our study, Green Care practices are motivated by a sense of care for social inclusion, by the experience of human-nature disconnection and of urban-rural disconnection, and by a love for nature;
Caring processes are shaped by caregivers, care receivers, and the natural environment in which they take place— including plants, animals, landscapes, and ecosystems more broadly. In order to make Green Care effective, it is important to give voice to all those involved, and to continuously improve the practices based on dialogue and feedback;
Because Green Care practices are innovative and require ongoing experimentation and tinkering, learning is essential for both participants and practitioners.

About Green Care practitioners:
Green Care practitioners are social innovators—they offer novel solutions to meet social needs and to enhance societal well-being. Practitioners act at the interface of different sectors, creating new networks, thus contributing to social capital;
It takes a range of both material and immaterial resources to make Green Care happen. Resources are found at many levels: structural, organizational, community, and personal;
Values and emotions matter greatly for Green Care entrepreneurs, and need to be taken into account to realize successful and effective initiatives;
Local context and resources are crucial for the success of Green Care practitioners: they influence the development of social relationships, as well as relationships with specific places (including cultural and natural dimensions). At the same time, Green Care practices contribute to shaping the local context and to sustaining, appreciating, and enhancing local resources.

About Green Care and place-based sustainability:
Green Care practices are designed to benefit specific target groups, but when Green Care practitioners care about sustainability, their practices can contribute to the well-being of all species;
Using local resources in and for Green Care activities can promote and enhance placebased sustainability;
It is important to see Green Care practitioners as more than just service providers. They can be social innovators with broad social and ecological values, whose initiatives have beneficial impacts for the wider community and ecosystems;
Policy makers and researchers could do more to appreciate the full range practices performed by Green Care practitioners, and specifically recognize and support their contributions to place-based sustainability.