Impact of climate change on fish in regulated rivers: A review with a case study of the River Vuoksi
Sutela, Tapio; Kallio-Nyberg, Irma; Vehanen, Teppo (2022)
---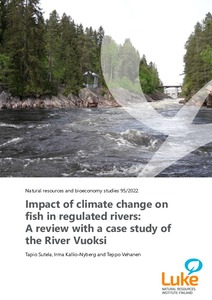 Sutela, Tapio
Kallio-Nyberg, Irma
Vehanen, Teppo
Julkaisusarja
Natural resources and bioeconomy studies
Numero
95/2022
Sivut
46 p.
Natural Resources Institute Finland (Luke)
2022
Julkaisun pysyvä osoite on
http://urn.fi/URN:ISBN:978-952-380-552-1
Tiivistelmä
A literature review of climate change on salmonid fish species was made with a special interest on regulated rivers. As a case study, the effect of expected climate change on fish in the River Vuoksi was assessed. The overall impact of climate change on salmonids in the River Vuoksi was considered negative. Being a lowland river, maximum water temperatures in summer may already exceed critical limits for brown trout and landlocked salmon parr, and grayling at all life-stages. Expected increase in winter and early spring discharge of the River Vuoksi in the following decades was considered harmful especially for brown trout and landlocked salmon juveniles. Expected decrease in summertime discharge accompanied with low water velocities will aggravate the loss of riffle habitat preferred by Salmo spp. young especially in these restored riffle areas. In contrast to salmonids, several warm-water species (e.g., pikeperch and many cyprinids) dwelling mostly outside the few remaining rapids and riffles in the River Vuoksi are anticipated to benefit from the climate change.
The River Vuoksi was considered to carry a special risk of a self-sustaining rainbow trout establishment in warming climate because of its southern location, expected changes in yearly discharge, relatively high and stable pH and large size of the river. Even without establishing a self-sustaining population, the widely detected spawning behavior of introduced rainbow trout with redd construction may be harmful to the reproduction of brown trout and landlocked salmon. Hence, stocking of put-and-take rainbow trout to the River Vuoksi was considered as a risk.
As mitigation measures for the adverse effect of climate chance on the salmonid species can be suggested restoration of the existing riffles, increased connectivity and new reproduction areas by construction of bypass channels for the fish to pass dams, shadowing tree canopy to possible bypass channels, dampening of hydropeaking, and more effective control of the fishermen in obeying the fishing restrictions especially in the lower reaches of the River Vuoksi.