Climate change opportunities reduce farmers' risk perception: Extension of the value-belief-norm theory in the context of Finnish agriculture
Sorvali, Jaana; Liu, Xing; Kaseva, Janne (2022)
---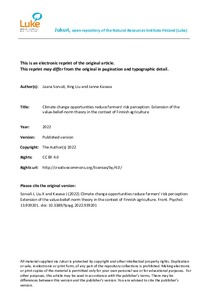 Sorvali, Jaana
Liu, Xing
Kaseva, Janne
Julkaisusarja
Frontiers in Psychology
Volyymi
13
Sivut
12 p.
Frontiers Media SA
2022
Julkaisun pysyvä osoite on
http://urn.fi/URN:NBN:fi-fe2022091258300
Tiivistelmä
Global agriculture faces severe challenges due to climate change. For boreal agriculture, climate change might also bring opportunities as the growing season lengthens, if the risks of climate change are managed properly. Agricultural production is a source of greenhouse gases, while agricultural land has also a great possibility to mitigate climate change as a carbon sink. Farmers are the central group for implementing these actions. Their views and beliefs contribute to their corresponding pro-environmental agricultural behavior. This research is based on the theory of value-belief-norm (VBN) as a predictive model of pro-environmental agricultural behavior. We extend the theory by studying how opportunities caused by climate change affect pro-environmental behavior in agriculture and present differences between farmer groups and experiment with the longitudinal possibilities of the theoretical model. Based on the structured survey responses from 4,401 farmers in Finland in 2018 and 2000 responses in 2020, we found that all the elements of VBN theory did help to predict intention for climate change mitigation, among which felt possibility to perform mitigation practices was the strongest predictor while risk perception was rather an unimportant one. Furthermore, opportunities caused directly or indirectly by climate change have an effect on Finnish farmer's implementation of mitigation practices. Therefore, future efforts in agricultural research and policy in Finland should concentrate to bring forth concrete farm-level mitigation practices with proven environmental benefits and the direct and indirect opportunities should be given more attention.