Conceptual preferences can be transmitted via selective social information use between competing wild bird species
Forsman, Jukka T.; Kivelä, Sami M.; Tolvanen, Jere; Loukola, Olli J. (2022)
---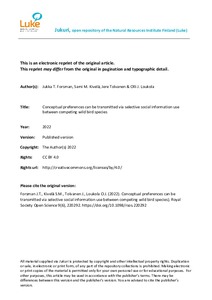 Forsman, Jukka T.
Kivelä, Sami M.
Tolvanen, Jere
Loukola, Olli J.
Julkaisusarja
Royal Society Open Science
Volyymi
9
Numero
6
Sivut
9 p.
The Royal Society
2022
Julkaisun pysyvä osoite on
http://urn.fi/URN:NBN:fi-fe2022080552875
Tiivistelmä
Concept learning is considered a high-level adaptive ability. Thus far, it has been studied in laboratory via asocial trial and error learning. Yet, social information use is common among animals but it remains unknown whether concept learning by observing others occurs. We tested whether pied flycatchers (Ficedula hypoleuca) form conceptual relationships from the apparent choices of nest-site characteristics (geometric symbol attached to the nest-box) of great tits (Parus major). Each wild flycatcher female (n = 124) observed one tit pair that exhibited an apparent preference for either a large or a small symbol and was then allowed to choose between two nest-boxes with a large and a small symbol, but the symbol shape was different to that on the tit nest. Older flycatcher females were more likely to copy the symbol size preference of tits than yearling flycatcher females when there was a high number of visible eggs or a few partially visible eggs in the tit nest. However, this depended on the phenotype, copying switched to rejection as a function of increasing body size. Possibly the quality of and overlap in resource use with the tits affected flycatchers' decisions. Hence, our results suggest that conceptual preferences can be horizontally transmitted across coexisting animals, which may increase the performance of individuals that use concept learning abilities in their decision-making.