Effects of overstory tree density, site preparation, and ground vegetation on natural Scots pine seedling emergence and survival in northern boreal pine forests
Kyrö, M.J.; Hallikainen, V.; Valkonen, S.; Hyppönen, M.; Puttonen, P.; Bergsten, U.; Winsa, H.; Rautio, P. (2022)
---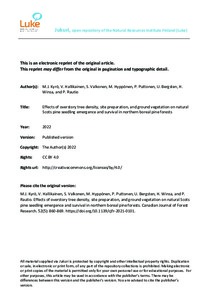 Kyrö, M.J.
Hallikainen, V.
Valkonen, S.
Hyppönen, M.
Puttonen, P.
Bergsten, U.
Winsa, H.
Rautio, P.
Julkaisusarja
Canadian Journal of Forest Research
Volyymi
52
Numero
5
Sivut
860-869
Canadian Science Publishing
2022
Julkaisun pysyvä osoite on
http://urn.fi/URN:NBN:fi-fe2022053039313
Tiivistelmä
Natural regeneration is a commonly used forest regeneration method in northern Finland. It is not known, however, what would be the optimal overstory density and ground vegetation composition for seedling emergence and survival, and if site preparation is needed to accompany overstory density manipulation. We studied the effects of overstory density (unthinned control and thinning to 50, 150, and 250 trees·ha−1) and ground vegetation removal (mechanical site preparation with disc trenching) on the number of naturally germinated pine seedlings and survival of individual seedlings over a period of 8 to 11 years. Bare mineral soil was a superior seedbed compared to intact vegetation cover, even though the mortality rate was high on mineral soil. Greater cover of lingonberry, crowberry, and slash had a negative effect on seedling number. Seedling mortality was initially high (60% died during the first 2 years) but decreased throughout the first 5 years. The survival rate of seedlings located in the mineral soil of the upper part of the disc trencher track was twice as high as that of seedlings located in the lower part of the track. High coverage of hair mosses (Polytrichum spp.) was associated with poorer seedling survival. An overstory density of 50–150 trees·ha−1 with site preparation seems to be an efficient treatment to promote regeneration under these circumstances.