Antioxidant potential and α-glucosidase inhibitory activity of onion (Allium cepa L.) peel and bulb extracts
Masood, S.; Rehman, A. ur; Ihsan, M. A.; Shahzad, K.; Sabir, M.; Alam, S.; Ahmed, W.; Shah, Z. H.; Alghabari, F.; Mehmood, A.; Chung, G. (2023)
---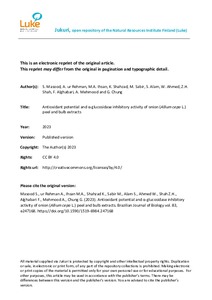 Masood, S.
Rehman, A. ur
Ihsan, M. A.
Shahzad, K.
Sabir, M.
Alam, S.
Ahmed, W.
Shah, Z. H.
Alghabari, F.
Mehmood, A.
Chung, G.
Julkaisusarja
Brazilian journal of biology
Volyymi
83
Sivut
9 p.
Instituto Internacional de Ecologia
2023
Julkaisun pysyvä osoite on
http://urn.fi/URN:NBN:fi-fe2021102151899
Tiivistelmä
Allium cepa L. is a commonly consumed vegetable that belongs to the Amaryllidaceae family and contains nutrients and antioxidants in ample amounts. In spite of the valuable food applications of onion bulb, its peel and outer fleshy layers are generally regarded as waste and exploration of their nutritional and therapeutic potential is still in progress with a very slow progression rate. The present study was designed with the purpose of doing a comparative analysis of the antioxidant potential of two parts of Allium cepa, i.g., bulb (edible part) and outer fleshy layers and dry peels (inedible part). Moreover, the inhibitory effect of the onion bulb and peel extracts on rat intestinal α-glucosidase and pancreatic α-amylase of porcine was also evaluated. The antioxidant potential of onion peel and bulb extracts were evaluated using 2,2-diphenyl- 1-picryl hydrazyl (DPPH), ferric-reducing antioxidant power assay (FRAP), 2,2'-azino-bis- 3-ethylbenzothiazoline-6-sulfonic acid (ABTS) radical scavenging assay, H2O2 radical scavenging activity and Fe2+ chelating activity. Total flavonoids and phenolic content of ethanolic extract of onion peel were significantly greater as compared to that of onion bulb. Ethanolic extract of onion peel also presented better antioxidant and free-radical scavenging activity as compared to the ethanolic extract of bulb, while the aqueous extract of bulb presented weakest antioxidative potential. Onion peel extract's α-glucosidase inhibition potential was also correlated with their phenolic and flavonoid contents. The current findings presented
onion peel as a possible source of antioxidative agents and phenolic compounds that might be beneficial against development of various common chronic diseases that might have an association with oxidative stress. Besides, outer dry layers and fleshy peels of onion exhibited higher phenolic content and antioxidant activities, compared to the inner bulb. The information obtained by the present study can be useful in promoting the use of vegetable parts other than the edible mesocarp for several future food applications, rather than these being wasted.