Alternate host screening of Thekopsora areolata in Scandinavia: a new record on Prunus grayana
Zhang, Ke; Olson, Åke; Samils, Berit; Kaitera, Juha (2021)
---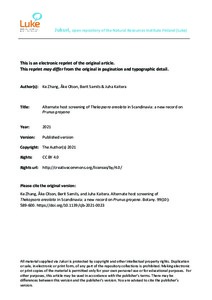 Zhang, Ke
Olson, Åke
Samils, Berit
Kaitera, Juha
Julkaisusarja
Botany-botanique
Volyymi
99
Numero
10
Sivut
589-600
National Research Council of Canada.
2021
Julkaisun pysyvä osoite on
http://urn.fi/URN:NBN:fi-fe2021101450961
Tiivistelmä
The cherry spruce rust caused by Thekopsora areolata (Fr.) Magnus results in significant losses in spruce seed production in the forest industry. The pathogen is present in Asia and Europe but absent from North America where it has been considered as a potential threat and listed as a quarantine organism by the United States Department of Agriculture. A comprehensive list and in-depth information regarding the alternate hosts of this pathogen are important for conducting epidemiological studies and for optimal disease control. Prunus padus L. is the main alternate host reported for T. areolata. In this study, we investigated the susceptibility of domestic and exotic Prunus spp. and other potential alternate host-plant species native to Scandinavia to T. areolata infection through a field survey and aeciospore inoculation experiments in the greenhouse and laboratory. No new susceptible species were found. In Sweden, a new record of Prunus grayana Maxim. with low susceptibility to T. areolata was found. In addition, we updated the list of currently confirmed alternate hosts of T. areolata according to field observations and inoculation results. Prunus padus and Prunus serotina Ehrh., as well as their hybrids and subspecies of Prunus padus, are highly susceptible, while Prunus depressa Pursh, Prunus grayana, Prunus spinosa L., and Prunus tenella Batsch are considered slightly susceptible.