Temporal sporulation of Thekopsora areolata and Chrysomyxa spp. in Finnish Norway spruce seed orchards
Kaitera, Juha; Aarnio, Leena; Karhu, Jouni; Ylioja, Tiina (2021)
---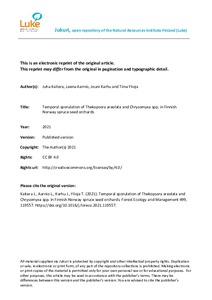 Kaitera, Juha
Aarnio, Leena
Karhu, Jouni
Ylioja, Tiina
Julkaisusarja
Forest ecology and management
Volyymi
499
Sivut
12 p.
Elsevier
2021
Julkaisun pysyvä osoite on
http://urn.fi/URN:NBN:fi-fe2021090945651
Tiivistelmä
Cone rusts Thekopsora areolata and Chrysomyxa pirolata are widely distributed in northern hemisphere. In Fennoscandia, these rusts cause severe damage and great economical losses especially in seed orchards specialized to produce high quality seeds. The aim of this study was to investigate sporulation of cone rusts and factors affecting epidemics to develop new control practices against these rusts. Natural sporulation of T. areolata was investigated in Finnish Norway spruce seed orchards on Prunus padus and the effect of environmental variables on rust sporulation in 2018–19. A sample of Prunus leaves was collected from which the coverage and number of T. areolata pustules were estimated. The frequency of cones with cone rusts, T. areolata, Chrysomyxa pirolata and C. ledi, was also estimated in Picea abies cones and the sporulation of C. pirolata on Pyrola sp. leaves in the seed orchards. The T. areolata incidence on Prunus was modelled with temperature sum, rainfall, seed orchard and time of estimation.

The T. areolata disease incidence was low (<30%) in seed orchards in 2018, but it exceeded 100% in 2019. T. areolata pustules covered less than 10% of the leaves in 2018 and 10–40% in 2019. An ascomycete, Phloeosporella padi, was common in all Prunus leaves in 2018–19. Low rainfall in May-June explained the low disease rate on Prunus in 2018, while high rainfall explained the high disease rate in May-June in 2019. Cumulative rainfall, temperature sum, time and their interactions were all significant variables in a disease model explaining the disease incidence, while seed orchard was a non-significant variable. Cone rust frequency was low in P. abies cones in the seed orchards in 2019. Telia with basidia of C. pirolata were rare in May-June on Pyrola due to low rainfall in 2018, but frequent due to high rainfall in 2019. Rust control of T. areolata is recommended to concentrate on Prunus to reduce the number of overwintering diseased leaves in the seed orchards. Old infected cones should be removed from seed orchards to reduce aeciospore dissemination to Prunus in May-June. Control of C. pirolata is recommended to concentrate on Pyrola in early May.