Report on scientific cod fishing and monitoring in 2020 in Åland, Finland
Raitaniemi, Jari; Leskelä, Ari (2021)
---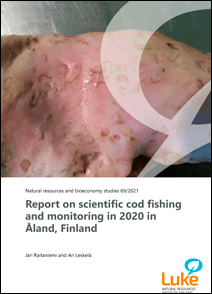 Raitaniemi, Jari
Leskelä, Ari
Julkaisusarja
Luonnonvara- ja biotalouden tutkimus
Numero
69/2021
Sivut
16 p.
Luonnonvarakeskus
2021
© Luonnonvarakeskus
Julkaisun pysyvä osoite on
http://urn.fi/URN:ISBN:978-952-380-283-4
Tiivistelmä
At present, Eastern Baltic cod in the southern Baltic Sea grows slowly, shows low condition factor and is heavily infected by the larvae of liver worms. It is hypothesized, that either the heavy infection by liver worms, lack of suitable food due to lack of oxygen in the deep bottoms of the Baltic Sea or both together cause severe problems for cod. The final host of the liver worm is grey seal (Halichoerus grypus), and this parasite is carried to cod via prey, smaller pelagic fish. There is a small-scale cod fishery in the Finnish waters in the Sea of Åland, where cod are large sized and in good condition. Grey seals are abundant in these waters.
In this study, the occurrence of Contracaecum larvae in the livers of cod in the Sea of Åland and the food of the cod were examined. The size of measured cod varied from 30 to 120 cm. The number of Contracaecum osculatum larvae correlated with cod length, but the number of larvae per liver weight did not. The condition factor of the cod was higher (1.115) and the specimens were larger than compared with recent findings from the southern Baltic Sea. More importantly, the condition of the cod was not found to be in relation to the number of Contracaecum larvae on the liver surface nor the number of larvae per liver weight. The most common food items were Saduria and clupeid fish. It looks probable that when there is enough food for the cod, the effects of Contracaecum osculatum infection on the condition and growth of cod are small or even insignificant.