Cryopreservation and Micropropagation Methods for Conservation of Genetic Resources of Ulmus laevis and Ulmus glabra
Välimäki, Sakari; Rusanen, Mari; Pečínková, Daniela; Tikkinen, Mikko; Aronen, Tuija (2021)
---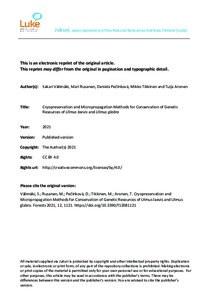 Välimäki, Sakari
Rusanen, Mari
Pečínková, Daniela
Tikkinen, Mikko
Aronen, Tuija
Julkaisusarja
Forests
Volyymi
12
Numero
8
Sivut
13 p.
Multidisciplinary Digital Publishing Institute (MDPI)
2021
Julkaisun pysyvä osoite on
http://urn.fi/URN:NBN:fi-fe2021082444058
Tiivistelmä
Elms are threatened by Dutch elm disease, and conservation methods are needed to protect
their genetic diversity. Cryopreservation of dormant buds allows large numbers of genotypes to
be conserved with small space requirements and minimal upkeep. Cryopreservation through slow
controlled cooling was tested for both elm species native to Finland, Ulmus glabra and Ulmus laevis.
Regeneration of the thawed buds by micropropagation was studied on different basal media and
using different growth regulators. Multiple surface sterilisation methods were tried out for bud
explants. The multiplication of U. glabra was investigated with Driver and Kuniyuki walnut medium
with either 0.5 mg/L meta-topolin or 0.5 mg/L 6-benzylaminopurine. Rooting with short indole-6-
butyric acid induction in liquid medium and direct transplantation of the shoots to peat ex vitro after
induction were tested. For initiation, either Murashige and Skoog or Driver and Kuniyuki walnut
medium with 0.02 mg/L gibberellic acid 4 + 7 and 0.5 mg/L 6-benzylaminopurine were found to
best promote shoot formation. Surface sterilisation remains the most challenging step. No significant
differences were found between the multiplication media in either shoot production or rooting
success. Rooting by direct transplanting was achieved in both species, but further development is
required before application on a larger scale. With further improvements to sterilisation success
especially in U. glabra, the method can be applied to the conservation of genetic resources of both U.
laevis and U. glabra, and knowledge of regeneration success can be used to design the cryoconservation plan and optimise the sampling.