Eradication of endophytes from needles, their inoculation with Lophodermium piceae and persistence of this fungus in needles of Norway spruce
Müller, Michael M.; Hamberg, Leena (2021)
---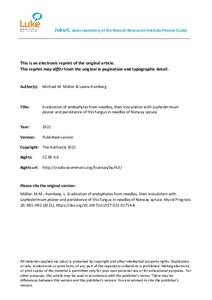 Müller, Michael M.
Hamberg, Leena
Julkaisusarja
Mycological progress
Volyymi
20
Numero
8
Sivut
981-992
Springer
2021
Julkaisun pysyvä osoite on
http://urn.fi/URN:NBN:fi-fe2021081743445
Tiivistelmä
Lophodermium piceae is the most common endophyte of Norway spruce (Picea abies) needles, and it probably occurs in the total distribution area of Norway spruce. Its significance to the host tree is still largely unknown mainly because no methodology is known for generating endophyte-free saplings nor for inoculation of intact needles with this fungus. We report here how a daily heat treatment at 40 °C for 8 h eradicates endophytes of Norway spruce needles within a few days without causing visible harm to the plants. We compared various methods for inoculation of endophyte-free saplings. In order to obtain effective inocula, we investigated what factors activate dormant L. piceae infections in the needle tissue resulting in ascomata formation. Best inoculation success was achieved by suspending naturally shed, highly infected needles above the saplings. Infection frequencies of up to 70% of needles were achieved with repeated inoculations in the course of 3 years. Once established in needles, individual infections by L. piceae can persist for at least 5 years. Individual infections remain small in young needles, but at a needle age of 6 years, they start to grow and spread resulting in presence all over the needle from base to tip at a needle age of 7 years, but still without causing visible symptoms on the needles. The presented methodology for generating both endophyte-free and endophyte-infected saplings of Norway spruce provides a new approach for testing the significance of infections by L. piceae to insect herbivory and diseases of Norway spruce needles.