Sustainability Assessment of current and recommended methods : TECH4EFFECT project report
Tuomasjukka, Diana; den Herder, Michael; Kunttu, Janni; Serrano León, Hernán; Orazio, Christophe; Wallius, Venla; Rois, Mercedes; Prinz, Robert; Routa, Johanna (2021)
---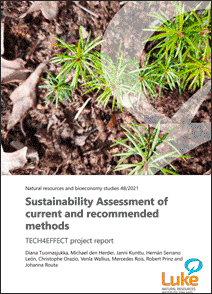 Tuomasjukka, Diana
den Herder, Michael
Kunttu, Janni
Serrano León, Hernán
Orazio, Christophe
Wallius, Venla
Rois, Mercedes
Prinz, Robert
Routa, Johanna
Julkaisusarja
Natural resources and bioeconomy studies
Numero
48/2021
Sivut
112 p.
Natural Resources Institute Finland (Luke)
2021
© Natural Resources Institute Finland
Julkaisun pysyvä osoite on
http://urn.fi/URN:ISBN:978-952-380-239-1
Tiivistelmä
The TECH4EFFECT project (http://www.tech4effect.eu/), funded by the "Bio Based Industries Joint Undertaking under the European Union's Horizon 2020 research and innovation program", is an international research collaboration of 20 partners from science and industry. The objective of the project is to enhance efficient wood production, by adapting the management of European forests to the requirements of a modern bioeconomy, and to meet new challenges such as climate change. Data and knowledge- based management will enable more efficient silviculture and harvesting, but also reduction of soil and environmental impact from forest operations with the TECH4EFFECT benchmarking system.
Within the Tech4Effect project, the baseline reference of current and most common wood value chain practices in major EU regions (Northern, Central, Southern, Eastern EU) from stand regeneration to timber at road side was defined, building on the processes and supply chains gathered in Work Package (WP)5.This was done in a process-based approach, integrating the silvicultural and operational practices with current volumes of growing stock and fellings, calculating material flows along those wood value chains and quantifying via a set of indicators their environmental, social and economic performance. In a second step, the TECH4EFFECT scenarios of increased wood mobilization (link to WP2) and improved efficiency (link to WP3) was compared against the baseline. The analysis focused on the study cases analysed in WP2, WP3 & WP4, using the Tool for Sustainability Impact Assessment ToSIA (Lindner et al., 2010). The analysis of the environmental wood chain performance considered greenhouse gas emissions (consistent with LCA methodology), energy use, and soil impact indicators. Social impacts were studied in terms of employment effects and occupational safety. The economic performance of the alternative wood value chains was analysed with cost-benefit analysis. Indicators as well as data needs for calculating these pan-European indicator values was harmonised in close cooperation with WP5.
This deliverable report consists of bottom-up upscaling from work studies and case studies to national level for selected representative countries, as well as top-down assessments at EU level and disaggregated impacts for four regions: Northern EU (NEU), Southern EU (SEU), Eastern EU (EEU) and Central EU (CEU). These impacts have been cross referenced to the Tech4Effect goals:
Efficiency goals of 20% reduced production costs, 15% reductions in fuel consumptions, less environmental impacts (soil damage) and 2% increased forest (yield) productivity.
These goals are discussed per impact category and technological solution. In addition, digitalisation and biofuels are assessed and discussed as options to mobilise timber at reduced environmental impact.