Autumn cold acclimation of shoots does not explain the northern distribution limit of three southern exotic tree species in Finland
Repo, Tapani; Wu, Dongxia; Hänninen, Heikki (2021)
---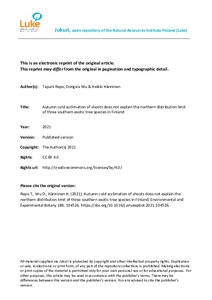 Repo, Tapani
Wu, Dongxia
Hänninen, Heikki
Julkaisusarja
Environmental and Experimental Botany
Volyymi
188
Sivut
9 p.
Elsevier
2021
Julkaisun pysyvä osoite on
http://urn.fi/URN:NBN:fi-fe2021052731834
Tiivistelmä
Frost hardiness (FH) is one of the key traits that limits the distribution of tree species in the north. Different species and ecotypes respond differently to the drivers of frost hardening and may therefore have different survival capacities, especially in their northern distribution range. Several southern tree species such as pedunculate oak (Quercus robur L.), Norway maple (Acer platanoides L.), and mountain elm (Ulmus glabra Hudson) have their natural northern distribution limit in Southern Finland. Here, we examined whether insufficient frost hardening in the autumn limits the northwards distribution of these three species. To that end, we monitored phenological events and frost hardening in the autumn in these exotic species in Central Finland, further north from the natural distribution range of the three exotic species, and for the sake of comparison, in the native silver birch (Betula pendula Roth.). In all species, a timely growth cessation was observed. The water content of the stem decreased, and its dry mass content increased rapidly in August before the onset of frost hardening, after which no major changes were observed in these two traits. In the early phase of hardening, there were differences in leaf colouring between the four species. The values of the electrical impedance parameters of the stem changed during frost hardening, with a clear turning point after the first night frosts at the end of September. Depending on the species and hardening phase, the high temperature exotherm (HTE) of the stem was observed between -3 °C and -10 °C, but HTE did not indicate differences between the species in frost hardening. In all four species, frost hardening started at the beginning of September and proceeded first at equal rates, but the hardening was more rapid later in birch than in the other species. The damaging temperature range assessed by the controlled freezing tests became wider with increasing FH. The occurrence rate of the low temperature exotherm (LTE) varied between the species, and the LTE was observed at around -35 °C in the last sampling at the beginning of December (no LTE was observed in birch). We conclude that the hardening of all four species took place in a timely manner so that in each, the frost hardiness was sufficient to survive the autumn frosts at the experimental site in Central Finland. Further studies are needed to examine whether the exotic three species also tolerate temporarily occurring extreme winter conditions such as temperatures below -35 °C, and the high short-term temperature variations in winter and especially in spring.