Modernisation of agricultural statistics : Final report
Jaakkonen, Anna-Kaisa; Kyyrä, Jaana; Mattila, Pasi; Katajamäki, Esa; Yli-Heikkilä, Maria; Kastikainen, Hanna; Sulkava, Mika (2021)
---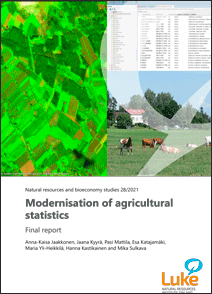 Jaakkonen, Anna-Kaisa
Kyyrä, Jaana
Mattila, Pasi
Katajamäki, Esa
Yli-Heikkilä, Maria
Kastikainen, Hanna
Sulkava, Mika
Julkaisusarja
Natural resources and bioeconomy studies
Numero
28/2021
Sivut
35 p.
Natural Resources Institute Finland (Luke)
2021
Julkaisun pysyvä osoite on
http://urn.fi/URN:ISBN:978-952-380-197-4
Tiivistelmä
The "Modernisation of agricultural statistics" project had three main goals: (1) modernisation of the statistical register of agricultural and horticultural enterprises (Mapu), (2) identification of new data sources that use agricultural statistics, and (3) the better utilisation of farm related geospatial data to define the location of farms. In addition, an international seminar was held in Poland during the project in cooperation with other countries carrying out a similar project and with representatives of Eurostat.
The project was divided into work packages in accordance with the main goals. The first work package included the modernisation of Mapu. This work package was further divided into two main tasks based on data sources: administrative data and direct data collection. Before the concrete modernisation of systems and databases, we identified how well the definition of a farm used in Mapu corresponds with the definition of a farm used in EU statistics (Article 2 of regulation (EU) 2018/1019 on integrated farm statistics). In practice, the definition of a farm entity used in Mapu in accordance with the Integrated Administration and Control System (IACS) corresponds well with the definition used in EU statistics. The most significant difference is that Mapu mainly does not include fur farming, reindeer husbandry and beekeeping. Apart from fur farming, the significance of these sectors is low, and this project does not recommend that enterprises engaged in these sectors be added to Mapu. Fur farms are included in the Business Register of Statistics Finland, which can be used to produce statistics of fur farms. If statistical obligations related to fur farming expand later, for example, as a result of the SAIO regulation, adding fur farms to Mapu should be reassessed.
Mapu's databases and related data flows were modernised during the project. The removal of direct database rights to datasets of agricultural administration for reasons related to information security was a significant change regarding administrative data. The Hansolo loading platform was built as a new solution. The administrative data required for agricultural statistics is copied regularly in Hansolo, from which data is available for Mapu and agricultural statistics. In addition to databases and data flows, the data content was modernised. Adding the contact details and business ID of farm parties, such as farmers, to the data content was the most significant addition. The data system of the administrative body of rural industries, belonging to IACS, is the primary data source. Data about animals is obtained from animal registers. In other words, units (farms and horticultural enterprises) in Mapu are the same as units in IACS.
Some data in Mapu can be obtained through direct data collection processes in conjunction with the survey for horticultural statistics. During this project, the data collection application, databases and data flows of this survey were modernised regarding all process phases, ranging from data collection to publication. As a new feature in data collection for horticultural statistics, farmers were able to log in to the online application through strong electronic identification using their banking codes, for example. As a result, it was not necessary to send usernames and passwords separately to respondents. In 2020, the data collection application was developed further by introducing an authorisation feature. In practice, this means that farmers can authorise another person to respond to the survey on their behalf.
In the second work package, we identified the broader use of data about farm coordinates to define the location of farms in agricultural statistics. The aim is to present data on maps better than before, while considering the data privacy of individual farms.
In the third work package, we examined what new data sources could be used more effectively than at present in agricultural statistics. According to the examination, data in the parcel databank about the use of crop protection products apparently represented the actual use of products better than data collected through the current data collection process. The use of parcel specific data obtained from farms for various purposes is developing and, as a result, parcel data may also become available as source material for statistics by new electronic means.
In addition, we developed a method to calculate the field-specific monoculture area. Compared with the previous method version, the use of the QuantumGIS program was a new factor. It helped to accurately define the area used for a single crop in consecutive years, also when the crop was only grown in part of the parcel in question during the three years under examination. The method for calculating the monoculture area developed in this project will be used in the 2023 IFS data collection process to produce data about crop rotation.
Considering the future of agricultural statistics, it will be interesting to see how new production sectors, such as insect farming, will possibly be included in the statistics. This also applies to questions related to production methods: in the future, food may be produced by enterprises other than conventional farms, such as by enterprises engaged in vertical farming. Environmental issues have steered agricultural activities in the past and will continue to do so during the next few years. For example, sequestering carbon in farmland may expand beyond perennial grasslands and fallows. Data production related to products sold, combined with statistics of environmental impact arising from agriculture, presents a challenge in agricultural statistics.
Growing and new statistical needs, together with fewer resources, will steer statistical production during the next few years towards the use of new data sources and the identification of data production that is "sufficiently good" in terms of quality and finances.
Modernisation of agricultural statistics co-funded by the Eurostat (Finland Grant agreement 2018.0212). This publication is the final report of the project (20.8.2020).