Early Field Performance of Small-Sized Silver Birch and Scots Pine Container Seedlings at Different Planting Depths
Pikkarainen, Laura; Luoranen, Jaana; Peltola, Heli (2021)
---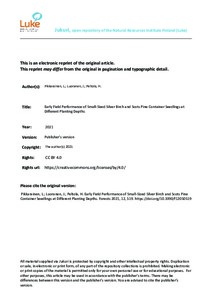 Pikkarainen, Laura
Luoranen, Jaana
Peltola, Heli
Julkaisusarja
Forests
Volyymi
12
Numero
5
Sivut
519
Multidisciplinary Digital Publishing Institute (MDPI)
2021
Julkaisun pysyvä osoite on
http://urn.fi/URN:NBN:fi-fe2021042928019
Tiivistelmä
Deep planting is recommended in Nordic countries only for normal-sized container
seedlings planted on mounds. Its effects on smaller-sized seedlings are poorly understood. We studied the effects of planting depth on the early field performance of small-sized silver birch (Betula pendula Roth) and Scots pine (Pinus sylvestris L.) container seedlings. Silver birch seedlings (mean height of 16 cm) were planted to depths of 3, 6 and 8 cm on spot mounds in May 2016. Scots pine seedlings (mean height of 9 cm) were planted to depths of 2, 5 and 8 cm on inverted mounds in September 2018 and May 2019. At the end of the first growing season, the deeper-planted birch seedlings were the tallest, as opposed to the deeper-planted Scots pine seedlings. However, the height differences between the planting depths were not apparent until the end of the second growing season in both tree species. Deeper planting decreased damage in Scots pine seedlings in the first growing season, which was not observed in silver birch. Based on our findings, small-sized Scots pine and silver birch seedlings can be planted safely at 6–8 cm planting depths, if at least 20% and
50% of their shoots, respectively, are above ground.