Assessment of the potential of Norway-spruce-seed-orchard associated plants to serve as alternate hosts of <i>Thekopsora areolata</i>
Kaitera, Juha; Kauppila, Tuomas; Hantula, Jarkko (2021)
---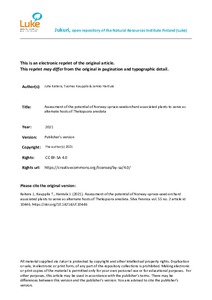 Kaitera, Juha
Kauppila, Tuomas
Hantula, Jarkko
Julkaisusarja
Silva fennica
Volyymi
55
Numero
2
Sivut
1-9
Suomen metsätieteellinen seura
2021
Julkaisun pysyvä osoite on
http://urn.fi/URN:NBN:fi-fe2021042111290
Tiivistelmä
The alternate host range of cherry-spruce rust is poorly studied although such information could
be important in protecting spruce seed orchards from infections. Pathogenicity of cherry-spruce
rust, Thekopsora areolata (Fr.) Magnus, was investigated on potential alternate host species in a
greenhouse and in a laboratory in Finland. Five common species of Ericaceae, Vaccinium myrtillus
L., V. uliginosum L., V. vitis-idaea L., Empetrum nigrum L. and Arctostaphylos uva-ursi (L.)
Spreng, were inoculated in the greenhouse using aeciospores from seven Norway spruce [Picea
abies (L.) H. Karst.] seed orchards suffering from T. areolata in 2018. In addition, young detached
leaves of Vaccinium spp. and 17 other plant species of ground vegetation from eight Norway
spruce seed orchards were inoculated with aeciospores from six seed orchards in the laboratory
in 2019. Also, young leaves of Prunus padus L. trees growing within the seed orchards or close
to them were inoculated as controls. None of the inoculated leaves of the potential alternate hosts
formed uredinia either in the greenhouse or in the laboratory. In contrast, leaves of P. padus from
the seed orchards were infected by the six spore sources from six seed orchards and produced
uredinia. As T. areolata spores were able to infect only P. padus, but not the other tested species
belonging to ground flora, it was concluded that T. areolata disperses only via Prunus spp. in
Finnish seed orchards.