Cost-Effective and Sustainable Harvest Methods
Poikonen, Pasi; Iwarsson Wide, Maria; Laitila, Juha; Gudynaitė- Franckevičienė, Valda; Jakobson, Indrek; Luik, Allar; Pošlin, Livia; Gong, Peichen; Lazdiņš, Andis; Bermanis, Raimonds; Birkena- Dzelzkaleja, Maija; Grasmane, Elvira; Schultze, Mareike; Rimmler, Thomas; Mustonen, Mika (2020)
---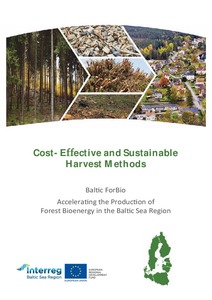 Poikonen, Pasi
Iwarsson Wide, Maria
Laitila, Juha
Gudynaitė- Franckevičienė, Valda
Jakobson, Indrek
Luik, Allar
Pošlin, Livia
Gong, Peichen
Lazdiņš, Andis
Bermanis, Raimonds
Birkena- Dzelzkaleja, Maija
Grasmane, Elvira
Schultze, Mareike
Rimmler, Thomas
Mustonen, Mika
Luonnonvarakeskus
2020
Julkaisun pysyvä osoite on
http://urn.fi/URN:ISBN:978-952-380-027-4
Tiivistelmä
Forest biomass is a highly important source of renewable energy in the Baltic Sea Region.
Forest harvests produce a huge amount of residues, of which a large share could be used
for energy purposes but are currently often left in forests due to economic and ecological
reasons. There is a large potential in tackling the increasing demand for renewable
energy by increasing the harvest of logging residues and small trees in pre-commercial
thinning. This handbook aims to increase production of renewable energy in the Baltic
Sea Region by improving the capacity of public authorities, forest and energy agencies,
organisations of forest owners and entrepreneurs and forest advisory organisations to
promote the harvest and use of logging residues and small trees cut in early thinning.

This handbook consists of five chapters to provide an overview of the role of forest bioenergy
in the Baltic Sea region countries – Estonia, Finland, Germany, Latvia, Lithuania,
and Sweden. The specific conditions related to each forest growing phase are described
from technological, economic, and environmental viewpoints. The handbook provides
knowledge on the current harvesting methods in the partner countries and finally recommends
best practices for the stakeholders. The aim is to learn about new approaches
to the forest bioenergy individually and organisationally.