Stability and Photoisomerization of Stilbenes Isolated from the Bark of Norway Spruce Roots
Latva-Mäenpää, Harri; Wufu, Riziwanguli; Mulat, Daniel; Sarjala, Tytti; Saranpää, Pekka; Wähälä, Kristiina (2021)
---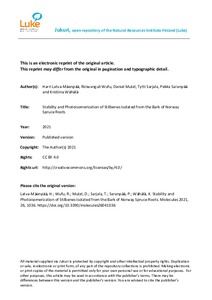 Latva-Mäenpää, Harri
Wufu, Riziwanguli
Mulat, Daniel
Sarjala, Tytti
Saranpää, Pekka
Wähälä, Kristiina
Julkaisusarja
Molecules
Volyymi
26
Numero
4
Sivut
15 p.
MDP
2021
Julkaisun pysyvä osoite on
http://urn.fi/URN:NBN:fi-fe202103046497
Tiivistelmä
Stilbenes or stilbenoids, major polyphenolic compounds of the bark of Norway spruce (Picea abies L. Karst), have potential future applications as drugs, preservatives and other functional ingredients due to their antioxidative, antibacterial and antifungal properties. Stilbenes are photosensitive and UV and fluorescent light induce trans to cis isomerisation via intramolecular cyclization. So far, the characterizations of possible new compounds derived from trans-stilbenes under UV light exposure have been mainly tentative based only on UV or MS spectra without utilizing more detailed structural spectroscopy techniques such as NMR. The objective of this work was to study the stability of biologically interesting and readily available stilbenes such as astringin and isorhapontin and their aglucones piceatannol and isorhapontigenin, which have not been studied previously. The effects of fluorescent and UV light and storage on the stability of trans stilbenes were assessed and the identification and characterisation of new compounds formed during our experiments were carried out by chromatographic (HPLC, GC) and spectroscopic techniques (UV, MS, NMR). The stilbenes undergo a trans to cis isomerisation under extended UV irradiation by intramolecular cyclisation (by the formation of a new C-C bond and the loss of two hydrogens) to phenanthrene structures. The characterised compounds are novel and not described previously.