Ultraviolet absorbance of Sphagnum magellanicum, S. fallax and S. fuscum extracts with seasonal and species-specific variation
Tienaho, J.; Silvan, N.; Muilu-Mäkelä, R.; Kilpeläinen, P.; Poikulainen, E.; Sarjala, T. (2021)
---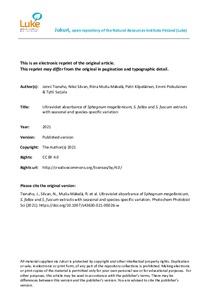 Tienaho, J.
Silvan, N.
Muilu-Mäkelä, R.
Kilpeläinen, P.
Poikulainen, E.
Sarjala, T.
Julkaisusarja
Photochemical and photobiological sciences
Springer Nature
2021
Julkaisun pysyvä osoite on
http://urn.fi/URN:NBN:fi-fe202103026313
Tiivistelmä
Bryophytes, including Sphagnum, are common species in alpine and boreal regions especially on mires, where full sunlight exposes the plants to the damaging effects of UV radiation. Sphagnum species containing UV-protecting compounds might offer a biomass source for nature-based sunscreens to replace the synthetic ones. In this study, potential compounds and those linked in cell wall structures were obtained by using methanol and alkali extractions and the UV absorption of these extracts from three common Sphagnum moss species Sphagnum magellanicum, Sphagnum fuscum and Sphagnum fallax collected in spring and autumn from western Finland are described. Absorption spectrum screening (200–900 nm) and luminescent biosensor (Escherichia coli DPD2794) methodology were used to examine and compare the protection against UV radiation. Additionally, the antioxidant potential was evaluated using hydrogen peroxide scavenging (SCAV), oxygen radical absorbance capacity (ORAC) and ferric reducing absorbance capacity (FRAP). Total phenolic content was also determined using the Folin-Ciocalteu method. The results showed that methanol extractable compounds gave higher UV absorption with the used methods. Sphagnum fallax appeared to give the highest absorption in UV-B and UV-A wavelengths. In all assays except the SCAV test, the methanol extracts of Sphagnum samples collected in autumn indicated the highest antioxidant capacity and polyphenol content. Sphagnum fuscum implied the highest antioxidant capacity and phenolic content. There was low antioxidant and UV absorption provided by the alkali extracts of these three species.