Finland's forest genetic resources, use and conservation
Rusanen, Mari; Beuker, Egbert; Yrjänä, Leena; Haapanen, Matti; Paanukoski, Sanna (2021)
---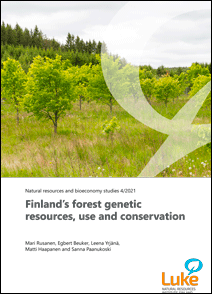 Rusanen, Mari
Beuker, Egbert
Yrjänä, Leena
Haapanen, Matti
Paanukoski, Sanna
Julkaisusarja
Natural resources and bioeconomy studies
Numero
4/2021
Sivut
35 p.
Natural Resources Institute Finland
2021
© Natural Resources Institute Finland (Luke)
Julkaisun pysyvä osoite on
http://urn.fi/URN:ISBN:978-952-380-147-9
Tiivistelmä
Three fourths of the land area of Finland is covered by forests. The forest area, 22.8 million hectares, has remained almost unchanged over the last 50 years, whereas the volume of growing stock has increased by more than 40% since 1971, being now 2 473 million m3. In the same time, the area of protected forests has tripled.
The vision of the updated National Forest Strategy 2025 is: Sustainable forest management is a source of growing welfare. The vision highlights the diverse welfare derived from forests as well as the fact that forests provide solutions to people´s and society´s needs. The forest sector is the cornerstone in the development of a sustainable and circular bioeconomy in Finland. The use of genetically improved material in forest regeneration has already significantly contributed to the increase of the annual increment of the growing stock in Finland for all three major tree species and will continue to do so also in the near future. The strategy acknowledges the importance of both the use and conservation of forest genetic resources to guarantee the genetic diversity, vitality and adaptability of tree species, in changing climatic conditions.
Finland's National Genetic Resources Programme for Agriculture, Forestry and Fishery (2018) brings together for the first time the gene conservation of plants and animals. For forest trees it lays out the need for conservation and defines the primary conservation methods (in situ or ex situ) for a total of 14 tree species, continuing the strategy that was already chosen in the previous national programme on forest genetic resources. Thus, conservation covers almost all financially or ecologically important tree species in Finland. The total number of gene reserve forests in Finland in 2020 is 44, covering an area of 7 218 ha. Ex situ –collections include 9 species for which material was collected from altogether 314 natural populations.
Forest genetic resources in Finland are used in a sustainable way. Around one fifth of forest regeneration is natural and four fifth artificial through planting or direct sowing. There is increasing interest in alternative forest management practises, such as continuous-cover forestry and there is a need to study the effect of this on the genetic variability. Finland has a long-term tree improvement programme for the six most important tree species. The breeding programme is managed by the Natural Resources Institute Finland (Luke) as a fully state-financed public service. Breeding goals for all species include volume production, timber quality and adaptedness to various sites and climates. Around 60‒70% of the seed for reforestation is produced in seed orchards. Cold hardiness is an important trait in the harsh climate of Finland and the application of optimal deployment areas for both non-improved and improved origins of forest reproductive material is considered highly important. For the users of forest reproductive material there are new tools to assist in making the right choice of regeneration material but there is still a need to promote the use of these tools and to expand their usability to a wider selection of species. For monitoring the success and for adapting the decision support tools as well as the regulations, it is extremely important to set up a geo-referenced system that keeps records on the origin of the regeneration material that has been used at a given location. Because the distribution areas of forest tree species go beyond political borders, international cooperation on forest genetic resources is crucial. Finland is actively participating in several important networks on the field of conservation and use of forest genetic resources, especially within the FAO and EUFORGEN. Regional cooperation is highly important in the sustainable management of forest genetic resources and cooperation brings sustainable multilateral benefits.
The most urgent needs for development of the conservation programme are the characterisation of the conserved material and the subsequent evaluation of the conservation network. Genetic information of all individual conservation units should be generated in a systematic way and this information needs to be made available for all stakeholders. Ideally the methods and descriptors would be harmonized at regional level to enable further development of the existing pan-European network and development of widely applicable genetic monitoring programme. At national, regional and global level there are various processes that require reporting on forest genetic resources for monitoring and development purposes. To make these parallel processes coherent and cost-effective it is essential that all reporting is organised in a transparent way, with open and accessible data records.