Associations between land cover categories, gaseous PAH levels in ambient air and endocrine signaling predicted from gut bacterial metagenome of the elderly
Vari, Heli K.; Roslund, Marja I.; Oikarinen, Sami; Nurminen, Noora; Puhakka, Riikka; Parajuli, Anirudra; Grönroos, Mira; Siter, Nathan; Laitinen, Olli H.; Hyöty, Heikki; Rajaniemi, Juho; Rantalainen, Anna-Lea; Sinkkonen, Aki (2021)
---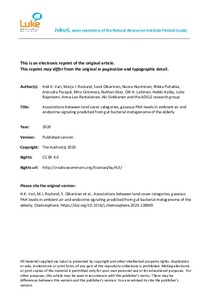 Vari, Heli K.
Roslund, Marja I.
Oikarinen, Sami
Nurminen, Noora
Puhakka, Riikka
Parajuli, Anirudra
Grönroos, Mira
Siter, Nathan
Laitinen, Olli H.
Hyöty, Heikki
Rajaniemi, Juho
Rantalainen, Anna-Lea
Sinkkonen, Aki
Julkaisusarja
Chemosphere
Volyymi
265
Elsevier BV
2021
Julkaisun pysyvä osoite on
http://urn.fi/URN:NBN:fi-fe2020120999966
Tiivistelmä
There is evidence that polycyclic aromatic hydrocarbons (PAHs) and human gut microbiota are associated with the modulation of endocrine signaling pathways. Independently, studies have found associations between air pollution, land cover and commensal microbiota. We are the first to estimate the interaction between land cover categories associated with air pollution or purification, PAH levels and endocrine signaling predicted from gut metagenome among urban and rural populations.

The study participants were elderly people (65–79 years); 30 lived in rural and 32 in urban areas. Semi-Permeable Membrane devices were utilized to measure air PAH concentrations as they simulate the process of bioconcentration in the fatty tissues. Land cover categories were estimated using CORINE database and geographic information system. Functional orthologues for peroxisome proliferator-activated receptor (PPAR) pathway in endocrine system were analyzed from gut bacterial metagenome with Kyoto Encyclopaedia of Genes and Genomes.

High coverage of broad-leaved and mixed forests around the homes were associated with decreased PAH levels in ambient air, while gut functional orthologues for PPAR pathway increased along with these forest types. The difference between urban and rural PAH concentrations was not notable. However, some rural measurements were higher than the urban average, which was due to the use of heavy equipment on active farms.

The provision of air purification by forests might be an important determining factor in the context of endocrine disruption potential of PAHs. Particularly broad-leaved forests around homes may reduce PAH levels in ambient air and balance pollution-induced disturbances within commensal gut microbiota.