Phosphorus losses from grasslands in short-term ley rotations under boreal conditions : Doctoral Dissertation
Räty, Mari (2020)
---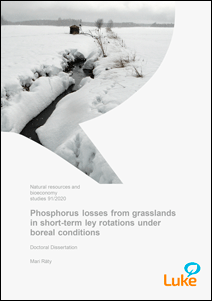 Julkaisusarja
Natural resources and bioeconomy studies
Numero
91/2020
Sivut
69 p.
Natural Resources Institute Finland
2020
Julkaisun pysyvä osoite on
http://urn.fi/URN:ISBN:978-952-380-099-1
Tiivistelmä
Grasslands occupy 45% of agricultural land in Finland, but in provinces characterised by grassland-based dairy production the proportion can be 67%. Phosphorus (P) loads from grasslands to inland waters have received relatively little research attention. In the Finnish climate, soils are subjected to frost in winter and snowfall comprises a considerable part of total annual precipitation. Surface runoff is generated by limited infiltration of snowmelt water into partially frozen soil in spring, which is a crucial period for dissolved nutrient and soil particle transport, especially in central and northern Finland.
This thesis examined the role of perennial grass vegetation in P dynamics in the soil-plant-water continuum and quantified P losses from grasslands under boreal conditions. Potential contributions of perennial vegetation to P losses were estimated indirectly, by determining changes in nutrient content of aboveground vegetation. Susceptibility of overwintering perennial ley regrowth to deliver P was assessed in a simulated snowmelt-induced surface runoff study. These approaches were complemented with five-year monitoring of a small (3.2 km2) agricultural and forested catchment, representing grassland-based dairy production areas in east-central Finland. Amount and inter-annual variation in P losses and erosion rate were quantified.
The results showed that grasslands can release substantial amounts of plant-derived P when exposed to frost, freezing and thawing. Elevated P concentrations and losses of up to 0.69 kg ha-1 were detected in simulated snowmelt-induced runoff outflow. Higher P concentrations were also occasionally measured in early spring runoff at small catchment scale. More frequent freezing/thawing will enhance plant-derived P release, especially under a reduced snow layer and lack of insulating cover. In five-year monitoring of an agricultural sub-catchment with short-terms leys, where some fields were under grassland and others under cereals, mean annual total P (TP) losses were 1.0 kg ha-1 (range 0.6−1.5 kg ha-1). The proportion of this TP load transported as dissolved reactive P (DRP) averaged 44% (range 32−56%) for the agricultural sub-catchment and 34% (28−38%) for the whole catchment area, reflecting low erosion rate under the protective grass cover. Five-year annual soil erosion rate from the agricultural sub-catchment was only 46−287 kg ha-1 (mean 115 kg ha-1 yr-1). The results also suggested that P losses were partly associated with loss of organic material. These results indicate a need for P monitoring based on chemical analysis of water samples, instead of on turbidity measurements.
Grasslands are prone to DRP losses, but substantially less susceptible to erosion than arable fields during harvest years. In Finnish short-term ley rotations, grass leys are typically renovated every 3−4 years, often including autumn ploughing, which can increase erosion and particulate P losses. Thus when quantifying P loads to waters from short-term grass leys, erosion and nutrient losses within the whole ley cycle should be considered, including the ley establishment and renewal year.