Site index models with density effect for hybrid aspen (Populus tremula L. × P. tremuloides Michx.) plantations in southern Finland
Lee, Daesung; Beuker, Egbert; Viherä-Aarnio, Anneli; Hynynen, Jari (2021)
---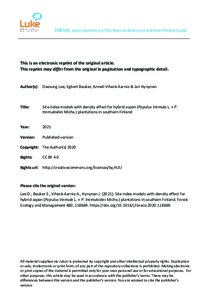 Lee, Daesung
Beuker, Egbert
Viherä-Aarnio, Anneli
Hynynen, Jari
Julkaisusarja
Forest Ecology and Management
Volyymi
480
Sivut
12 p.
Elsevier
2021
Julkaisun pysyvä osoite on
http://urn.fi/URN:NBN:fi-fe2020111089793
Tiivistelmä
This study was conducted to examine the characteristics of dominant height growth and develop site index models for clonal hybrid aspen plantations in southern Finland. Data were obtained from repeatedly measured clonal hybrid aspen trials with varying initial spacing: 2.5 m × 2.5 m (1600 trees ha−1), 3.0 m × 3.0 m (1200 trees ha−1), 3.5 m × 3.5 m (800 trees ha−1), and 5.0 m × 5.0 m (400 trees ha−1). The total number of data points in the analysis was 389 for the age of 3–20. Within the range of observed data, the dominant height grew linearly over age and was significantly different due to the initial planting density; growth was higher when the planting was denser. Using the initial density effect, dominant height growth models were developed based on the Chapman-Richards function through nonlinear mixed-effects modelling. The density variable was found to be statistically the best variable when modifying only the shape parameter of the Chapman-Richards function. All fixed-effects were significant for both models, with and without the density effect. The residual plots of the model did not show any bias over the predicted value, stand age or planting density. The predicted dominant height was higher with increasing initial density. The predicted dominant height increment was faster with higher planting densities until the age of 14 years. The anamorphic site index curves were presented with base age of 20 years including the planting density effect. The overall pattern of site index curves was consistent with those observed in previous studies. The models developed in this study can be used to estimate the dominant height and site index of hybrid aspen plantations in southern Finland.