Accumulation of Phenolic Acids during Storage over Differently Handled Fresh Carrots
Hellström, Jarkko; Granato, Daniel; Mattila, Pirjo H. (2020)
---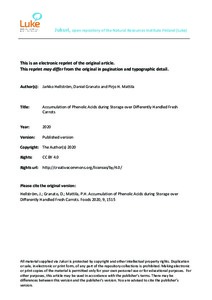 Hellström, Jarkko
Granato, Daniel
Mattila, Pirjo H.
Julkaisusarja
Foods
Volyymi
9
Numero
10
Sivut
13 p.
MDPI AG
2020
Julkaisun pysyvä osoite on
http://urn.fi/URN:NBN:fi-fe2020110589360
Tiivistelmä
Carrots contain a significant content of phenolic compounds, mainly phenolic acids. Technological processing of carrots inflicts wounding stress and induces accumulation of these compounds, especially caffeic acid derivatives, in the periderm tissue. In this study, the effect of minimal processing (polishing, washing, peeling, and grating) on the retention of soluble phenolic acids in carrots was monitored during cold storage. Storage for up to 4 weeks and 24 h was used for whole and grated carrot samples, respectively. Total phenolic acid levels found in differently processed carrots varied greatly at the beginning of the storage period and on dry weight basis they ranged from 228 ± 67.9 mg/kg (grated carrot) to 996 ± 177 mg/kg (machine washed). In each case, processing followed by storage induced phenolic acid accumulation in the carrots. At the end of the experiment (4 weeks at +8 °C), untreated and machine-washed carrots contained ca. 4-fold more phenolic acids than at day 0. Similarly, polished carrots contained 9-fold and peeled carrots 31-fold more phenolic acids than at day 0. The phenolic acid content in grated carrot doubled after 24 h storage at +4 °C. Individual phenolic acids were characterized by high resolution mass spectrometry. MS data strongly suggest the presence of daucic acid conjugates of phenolic acids in carrot. Storage time did not have statistically similar effect on all compounds and generally in a way that dicaffeoyldaucic acid had the highest increase. This research provides important information for primary production, packaging, catering, the fresh-cut industry and consumers regarding the selection of healthier minimally processed carrots.