Finnish Forest Sector Economic Outlook 2020–2021
Viitanen, Jari; Mutanen, Antti; Karvinen, Sari (2020)
---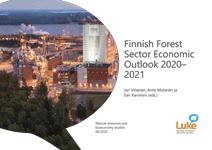 Viitanen, Jari
Mutanen, Antti
Karvinen, Sari
Toimittajat
Viitanen, Jari
Mutanen, Antti
Karvinen, Sari
Julkaisusarja
Natural resources and bioeconomy studies
Numero
80/2020
Sivut
9 p.
Natural Resources Institute Finland (Luke)
2020
© Natural Resources Institute Finland (Luke)
Julkaisun pysyvä osoite on
http://urn.fi/URN:ISBN:978-952-380-078-6
Tiivistelmä
Strikes and other industrial actions in the Finnish forest industry in January–February and the fall in global demand due to the COVID-19 pandemic will reduce the production and export volumes of several forest industry products and export prices in 2020. The demand for paperboard, tissue paper, and label papers has been brisk, but due to the capacity closures, the production of printing and writing paper in Finland is experiencing a particularly deep decline. Industrial roundwood removals will also decrease, employment and profitability in the forest sector will weaken slightly, the stumpage prices of roundwood will decrease and the stumpage earnings in private forestry will start to decline.

After summer 2020, economic recovery has already begun in several market areas and the recovery is expected to continue next year. As global market demand recovers, production and export volumes of forest industry products will start to grow, except for printing and writing paper. The effects will also be passed on to forestry as felling volumes increase and stumpage prices rise.