The impact of groundwater upwelling on the Tornionjoki trout : Project report
Romakkaniemi, Atso; Jounela, Pekka; van der Meer, Olli (2020)
---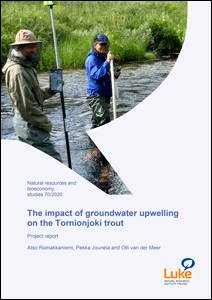 Romakkaniemi, Atso
Jounela, Pekka
van der Meer, Olli
Julkaisusarja
Natural resources and bioeconomy studies
Numero
70/2020
Sivut
29 p.
Natural Resources Institute Finland (Luke)
2020
© Natural Resources Institute Finland
Julkaisun pysyvä osoite on
http://urn.fi/URN:ISBN:978-952-380-058-8
Tiivistelmä
The effects of groundwater upwelling on the occurrence of fish species trout and sculpins were studied in the tributary streams Valkeajoki and Kuerjoki of the River Äkäsjoki (part of the Tornionjoki river system), northern Finland. Four main study areas with altogether six study sites were selected for data collection. Within these sites, altogether 81 sampling lines across stream channel were studied, comprising of 558 sampling points (1 sqm each). Habitat characteristics known to affect trout occurrence were mapped, and the presence of groundwater was identified/mapped from the existing TIR remote sensing data and by water and sediment temperature measurements. The chosen rivers are generally strongly fed by groundwater, which together with cool weather kept river water temperature low. The presence/absence data of fish species was collected by point sampling with a standard electrofishing equipment. Altogether 348 fish were caught, out of which 285 were trout parr and 63 were sculpins.
Trout and sculpins occurrence was modeled using self-organizing map (SOM), and random forests (RF) models. SOM was used to visualize interactions between predictors of the present study including trout, sculpin and no fish occurrences. Trout and sculpin occurrence patterns were recognized using RF model.
The analyses indicated that trout parr prefer sampling points with low water temperatures, low sediment temperatures, low river flow, high oxygen levels, small distance from the riverbank, low water depth and plain bottom. Thus, our analyses indicate similar general habitat choices for trout as found out in various other studies, but also a preference to the points of groundwater upwelling which is a new finding. The data was not suffient to indicate, why trout seem to favour strong presence of groundwater. However, the possible effects of groundwater upwelling on the distribution and abundance of submerged macrophytes as well as on the species composition of benthic macroinvertebrate communities is discussed in the light of trout habitat choices.
The study was carried out during 2017–2018 in the project "Groundwater and trout" (Luke's project ID 41007-00107300). The project was co-financed by the incomes from selling fishing licenses in Tornionjoki, Koneen säätiö and Luke.