Assessment of occupational safety determinants in Finnish agriculture and commercial fishing
Kaustell, Kim O. (2020)
---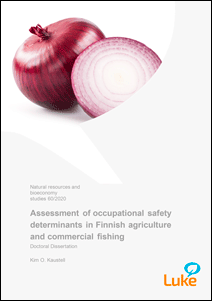 Julkaisusarja
Natural resources and bioeconomy studies
Numero
60
Sivut
89 p.
Natural Resources Institute Finland
2020
Julkaisun pysyvä osoite on
http://urn.fi/URN:ISBN:978-952-380-029-8
Tiivistelmä
Agriculture and commercial fishing are among the most hazardous occupations worldwide, also in Finland. Various efforts have been developed to prevent and mitigate the effects of occupational accidents and diseases. The process of risk management comprises two significant stages: 1) risk assessment, and 2) risk treatment. Occupational safety and health (OSH) risk assessment builds on the evolution of accident causation models and of knowledge on human behavior over several decades. Risk treatment has also evolved, ranging from limited targeted efforts to multi-faceted interventions.
The aims of this thesis were to identify factors that influence the incidence and severity of occupational accidents (risk assessment approach) and work system related factors that affect efficacy of occupational safety interventions (risk treatment approach). Information of the identified factors, called "occupational safety determinants" in this thesis, was composed into a list of occupational safety determinant clusters with respect to their contribution to occupational safety risk assessment and risk treatment.
Four original articles were used as case studies to derive occupational safety determinants. Two of the articles focused on the occupational safety of farmers while the two other articles dealt with that of commercial fishers. For both occupations, there was one article based on accident insurance claim records, and one article based on user (farmer/fisher) centered surveys.
The list of occupational safety determinant clusters was used to facilitate the assessment and discussion of occupational safety determinants. The list comprises the following nine titles: Physical environment, Organization and management, Individual, Task, Tools and technologies, External, Performance, Intervention mechanisms, and Intervention drivers and barriers.
Analysis of occupational accident insurance claim records with a limited set of variables yielded a narrow quantitative set of safety determinants that mainly described the immediate accident context. The result was expected, because the national and the European Statistics on Accidents at Work (ESAW) methods include sparse if any information on distal factors to the accident, such as the effect of work organization, management, or external factors of the accident etiology. The user centered surveys yielded a broader qualitative spectrum of occupational safety determinants, and provided also insight into additional, macro-ergonomic factors, such as the social and organizational context as well as contextual factors potentially influencing adoption of safety interventions.
User centered research methods along with research that is based on accident claim records can assist in designing more effective occupational safety interventions. These methods contribute to understanding the individuals' behavior in the context of work, both from accident and hazard analysis as well as from the accident prevention viewpoint. Multi-faceted approaches are needed to provide comprehensive information that is essential for reducing the excessive burden of injury and illness in agriculture and commercial fishing.