Arsenic in agro-ecosystems under anthropogenic pressure in Germany and France compared to a geogenic As region in Finland
Tarvainen, Timo; Reichel, Susan; Müller, Ingo; Jordan, Isabel; Hube, Daniel; Eurola, Merja; Loukola-Ruskeeniemi, Kirsti (2020)
---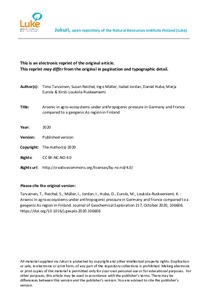 Tarvainen, Timo
Reichel, Susan
Müller, Ingo
Jordan, Isabel
Hube, Daniel
Eurola, Merja
Loukola-Ruskeeniemi, Kirsti
Julkaisusarja
Journal of geochemical exploration
Volyymi
217
Sivut
11 p.
Elsevier
2020
Julkaisun pysyvä osoite on
http://urn.fi/URN:NBN:fi-fe2020091669631
Tiivistelmä
Arsenic concentrations in soil and water were examined at the European level via a literature review and data inventory in the first phase of the AgriAs European Water JPI project. Arsenic in soil can be derived from both natural and anthropogenic sources. At the European scale, the distribution of arsenic in agricultural topsoil can mostly be explained by geology. In the next step, the AgriAs project investigated arsenic concentrations in soil and water in two regions: Saxony in Germany and Verdun in France. The results were compared with arsenic data from a geogenic arsenic region around the city of Tampere in Finland. In Saxony, arsenic is partly natural and partly derived from the widespread mining and ore processing activities in the area that have lasted for centuries. Areas contaminated with As were found to cover 970 km2 in Saxony. The soil baseline for As is only 20–40 mg/kg but the highest concentrations in soil are up to 5000 mg/kg. The large number of investigations in Saxony has given a possibility to evaluate As transfer into plants, fodder and food and to develop guidelines for farmers. In Verdun, arsenic is derived from a former chemical ammunition destruction facility that operated in the interwar period. Today, there are hot spots of As in topsoil with concentrations ranging from 100 to 1000 mg/kg, while the baseline concentration in soil is 18 mg/kg. In the Tampere region, baseline concentrations of As in glacial till forest soils are relatively high (30 mg/kg) over an area of 7400 km2, with hot spots of 1050 mg/kg in topsoil. However, agricultural soils contain clearly lower As concentrations. In all three regions, As concentrations in surface waters and in groundwater were found to be relatively low, and the As concentration in topsoil could not be linked to irrigation with As-containing water. Fortunately, As transfer from soil into plants via root systems is generally low in aerated soil, but As-containing dust can affect fodder plants. Especially in the Freiberg area of Saxony, As is usually associated with Cd contamination in topsoil, and guidelines for farmers based on Cd concentrations are also a good risk management method for As.