Controlling aerobic stability of silage based total mixed rations : Doctoral Dissertation
Seppälä, Arja (2020)
---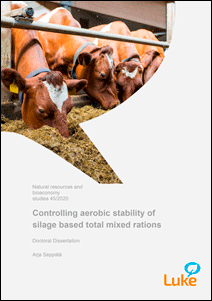 Julkaisusarja
Natural resources and bioeconomy studies
Numero
45/2020
Sivut
60 p.
Natural Resources Institute Finland (Luke)
2020
© Natural Resources Institute Finland
Julkaisun pysyvä osoite on
http://urn.fi/URN:ISBN:978-952-326-996-5
Tiivistelmä
Total mixed ration (TMR) is a feeding method for ruminants. Prior to feeding different types of feed ingredients are mixed together to create a uniform moist mass. TMR provides favourable conditions for microbial growth, which can cause rapid spoilage and spontaneous heating of the feed especially during the warm season. Potential negative consequences of the TMR heating are dry matter (DM) losses, reduced feed intake and subsequent reduction in animal production.
The objective of this thesis was to explore the factors affecting TMR stability. Silage is normally the most important component of a TMR. The effect of silage stability on TMR stability was evaluated by varying both silage additive and silage DM concentration. The ensiled crops were grass (a mixture of timothy and meadow fescue) and faba bean-wheat and field pea-wheat whole crops. The grass was ensiled at two dry matter levels: 218 (LDM) or 539 (HDM) g kg-1. The whole crops were dominated by legumes as their proportions were 0.84 (faba bean) and 0.89 (pea) and DM was low (173 and 181 g DM kg-1, respectively). Ensiling trials were conducted in 12 L silos. Each silage from the ensiling trials was used to prepare a TMR by adding various concentrate components. Aerobic stability of both the silage and the TMR was measured by following the temperature rise in the feed materials during aerobic exposure.
Silage stability was directly linked to TMR stability of the additive treated silages within crop. On the contrary, non-additive treated LDM silage had stability of 13.8 days while the TMR prepared from that silage had a stability of only 10 hours.
TMR DM was 590 g kg-1 and 330 g kg-1 for HDM and LDM, respectively. Numerically TMR prepared from HDM silages had 69 hours longer stability than TMR prepared from LDM silages. Conversely, TMR prepared from whole crop legume silages had only 280 g DM kg-1, and yet their stability was relatively good (> 45 hours). It is notable, that silages were introduced into TMR immediately after silo opening without any semi-aerobic feedout phase.
The stability of the LDM silages was on average 12 times longer than the stability of the respective TMR. Legume whole crop silages had a stability 1.4 times higher than the respective TMR. The range of the silage additive effect on the TMR stability was 13 hours for faba bean-wheat silages, 30 hours for LDM silages, 57 hours for pea-wheat silages and 82 hours for HDM silages.
Preservatives can be added into TMR at the time of mixing to delay the spoilage. Two trials were conducted to explore the effects TMR hygieny and preservative additions. Effects of both liquid and solid preservatives were investigated as a method to delay TMR heating. The hygiene level of TMR was varied by an inclusion (10 % on DM basis) of one-week-old TMR into the mixture, by inclusion of brewers grains (13 % on DM basis) or by the quality of the grass silage (fresh or after aerobic exposure).
The preservative added into TMR at the time of mixing improved TMR stability on average by 1.5 to 41 hours depending on the microbial status of the TMR and the application level of the preservative. The effects of chemical stabilizers were larger, when the Control TMR had good stability.
Low yeast count (< 3 log10 cfu g-1) of the TMR was related to good stability. A high yeast count (> 5 log10 cfu g-1) and consequent rapid TMR heating may be caused by inoculation in the form of high yeast containing components such as by brewers grains or sometimes by silages. Together with yeasts, also aerobic bacteria may play a role in TMR spoilage, as suggested by the high count of aerobic bacteria (9.8 log10 cfu g-1) in aerobically spoiled silage.
Poor hygiene reduced TMR stability by 50 hours. The amount of yeasts, moulds and aerobic bacteria, respectively, were 55, 257 and 126 times higher in TMR containing 26 % spoiled silage (on DM-basis) compared to the TMR prepared from high hygienic quality ingredients.
It was concluded that silage additives can manipulate silage and respective TMR aerobic stability. Within additive treated silages there was a strong correlation between silage stability and TMR stability. High dry matter grass silages and TMR prepared from them had good stability in the trial conditions, which may not reflect practical situation on farms where presense of oxygen is more variable during silo filling, during ensiling as well as during feed out potentially causing substantially higher count of aerobic spoiling microbes than in trial silos. Chemical TMR preservatives can improve TMR stability especially effective when the initial number of spoiling organisms is low.