Changes in thiamine concentrations, fatty acid composition, and some other lipid-related biochemical indices in Baltic Sea Atlantic salmon (Salmo salar) during the spawning run and pre-spawning fasting
Vuorinen, Pekka J.; Rokka, Mervi; Ritvanen, Tiina; Käkelä, Reijo; Nikonen, Soili; Pakarinen, Tapani; Keinänen, Marja (2020)
---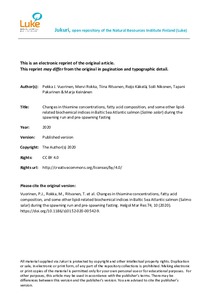 Vuorinen, Pekka J.
Rokka, Mervi
Ritvanen, Tiina
Käkelä, Reijo
Nikonen, Soili
Pakarinen, Tapani
Keinänen, Marja
Julkaisusarja
Helgoland marine research
Volyymi
74
Sivut
24 p.
Springer.
2020
Julkaisun pysyvä osoite on
http://urn.fi/URN:NBN:fi-fe2020090165980
Tiivistelmä
Salmonines in the Baltic Sea and North American lakes suffer from thiamine (vitamin B1) deficiency, which is connected to an abundant lipid-rich diet containing substantial amounts of polyunsaturated fatty acids (PUFAs). In
the Baltic region, this is known as the M74 syndrome. It affects both adult salmon (Salmo salar) and especially their offspring, impairing recruitment. However, very little is known about the thiamine and lipid metabolism of salmon during feeding and spawning migrations in the Baltic Sea. In this study, salmon females were sampled along the spawning run from the southern Baltic Proper in four locations at sea and finally at spawning in a river at the Bothnian Bay in a year with insignificant M74 mortality. Changes in concentrations of thiamine and its components in muscle, ovaries, and the liver and other biochemical indices potentially relating to lipid and fatty acid metabolism were investigated. The results provide further evidence of the role of peroxidation of PUFAs in eliciting thiamine deficiency in salmon: During the entire spawning run, the muscle total lipid content decreased by 50%, palmitic acid (16:0) by 62%, and docosahexaenoic acid (DHA, 22:6n-3) by 45%. The concentration of total thiamine decreased significantly until the spawning in the liver and ovaries, 66 and 70% respectively. In the muscle, the proportion of thiamine pyrophosphate of total thiamine increased with the use of muscular lipid stores. There was no trend in the concentration of total carotenoids during the spawning run. The doubling of the concentration of hepatic malondialdehyde indicated peroxidation of PUFAs, and the mobilisation of body lipids suppressed the activity of glucose-6-phosphate dehydrogenase, as consumed dietary lipids would also have done.