Soil carbon stocks in Ethiopian forests and estimations of their future development under different forest use scenarios
Lehtonen, Aleksi; Ťupek, Boris; Nieminen, Tiina M.; Balázs, András; Anjulo, Agena; Teshome, Mindaye; Tiruneh, Yibeltal; Alm, Jukka (2020)
---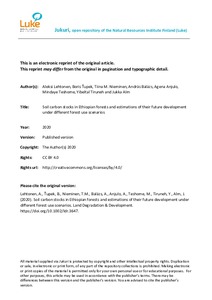 Lehtonen, Aleksi
Ťupek, Boris
Nieminen, Tiina M.
Balázs, András
Anjulo, Agena
Teshome, Mindaye
Tiruneh, Yibeltal
Alm, Jukka
Julkaisusarja
Land degradation and development
Volyymi
31
Numero
18
Sivut
2763-2774
Wiley
2020
Julkaisun pysyvä osoite on
http://urn.fi/URN:NBN:fi-fe2020080648161
Tiivistelmä
Contributions from all land‐uses are needed if Ethiopia is to fulfil its Paris Agreement targets. The magnitude of soil carbon stock and the role of Ethiopian forest soils in climate change mitigation has not yet been clarified. In this study, soil carbon inventory in forests was carried out as a part of the Ethiopia REDD+ Programme. The performance of soil carbon models Yasso07 and CENTURY was tested by comparing the model predictions with the empirical soil organic carbon (SOC) data provided by the field inventory. In addition to that, Global Soil Organic Carbon (GSOC) map estimates by the Food and Agriculture Organization for Ethiopia were included in the comparison. The soil inventory was carried out in 2017–2018 at a subset of permanent sampling units of the National Forest Inventory conducted in 2014–2017. A combination of soil inventory data, soil carbon models and satellite images enabled to quantify the impact of forest use intensity to future SOC sinks in Ethiopian forests in a novel way. The Yasso07 and CENTURY models provided similar SOC estimates to the measured data for all biomes, and the GSOC map overestimated in biomes with larger SOC stocks. Results showed that Moist Afromontane forest biome contains twice as much SOC per unit area compared to Combretum‐Terminalia forest biome and three‐times more SOC compared to Acacia‐Commiphora. Results underlined that sustainable forest management has a high potential for soil carbon development in Ethiopian forests in near future, impacting the ability of the Country to achieve its Paris Agreement targets.