Patterns in the spectral composition of sunlight and biologically meaningful spectral photon ratios as affected by atmospheric factors
Kotilainen, T.; Aphalo, PJ.; Brelsford, CC.; Böök, H.; Devraj, S.; Heikkilä, A.; Hernández, R.; Kylling, A.; Lindfors, AV.; Robson, TM. (2020)
---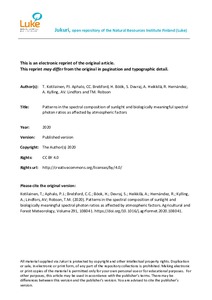 Kotilainen, T.
Aphalo, PJ.
Brelsford, CC.
Böök, H.
Devraj, S.
Heikkilä, A.
Hernández, R.
Kylling, A.
Lindfors, AV.
Robson, TM.
Julkaisusarja
Agricultural and forest meteorology
Volyymi
291
Sivut
14 p.
Elsevier
2020
Julkaisun pysyvä osoite on
http://urn.fi/URN:NBN:fi-fe2020073147835
Tiivistelmä
Plants rely on spectral cues present in their surroundings, generated by the constantly changing light environment, to guide their growth and reproduction. Photoreceptors mediate the capture of information by plants from the light environment over a wide range of wavelengths, but despite extensive evidence that plants respond to various light cues, only fragmentary data have been published showing patterns of diurnal, seasonal and geographical variation in the spectral composition of daylight. To illustrate patterns in spectral photon ratios, we measured time series of irradiance spectra at two distinct geographical and climatological locations, Helsinki, Finland and Gual Pahari, India. We investigated the drivers behind variation of the spectral photon ratios measured at these two locations, based on the analysis of over 400 000 recorded spectra. Differences in spectral irradiance were explained by different atmospheric factors identified through multiple regression model analysis and comparison to spectral irradiance at ground level simulated with a radiative transfer model. Local seasonal and diurnal changes in spectral photon ratios were related to solar elevation angle, atmospheric water-vapour content and total ozone column thickness and deviated from their long-term averages to an extent likely to affect plant photobiology. We suggest that future studies should investigate possible effects of varying photon ratios on terrestrial plants. Solar elevation angle especially affects the patterns of B:G and B:R ratios. Water vapour has a large effect on the R:FR photon ratio and modelled climate scenarios predict that increasing global temperatures will result in increased atmospheric water vapour. The development of proxy models, utilising available data from weather and climate models, for relevant photon ratios as a function of solar elevation angle and atmospheric factors would facilitate the interpretation of results from past, present and future field studies of plants and vegetation.