Increase in perennial forage yields driven by climate change, at Apukka Research Station, Rovaniemi, 1980-2017
Niemeläinen, Oiva; Hannukkala, Antti; Jauhiainen, Lauri; Hakala, Kaija; Niskanen, Markku; Laine, Antti (2020)
---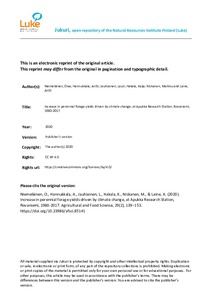 Niemeläinen, Oiva
Hannukkala, Antti
Jauhiainen, Lauri
Hakala, Kaija
Niskanen, Markku
Laine, Antti
Julkaisusarja
Agricultural and food science
Volyymi
29
Numero
2
Sivut
139-153
Scientific Agricultural Society of Finland
2020
Julkaisun pysyvä osoite on
http://urn.fi/URN:NBN:fi-fe2020071647426
Tiivistelmä
The official variety trials at Rovaniemi, Finland (66.58°N, 26.01°E) in 1980–2017 show a substantial increase in dry
matter yields (DMY) of timothy (Phleum pratense), meadow fescue (Festuca pratensis) and tall fescue (Festuca arundinacea), coinciding with a 156 °Cd increase in the average growing season Tsum and a 461 °Cd decrease in the average winter frost sum for the same period. The annual DMY of timothy was 3128, 4668, 8385 and 9352 kg ha-1 in
the periods (P) 1980–1989 (P1), 1990–1999 (P2), 2000–2009 (P3), and 2010–2017 (P4). The first cut yielded 1792,
2166, 4008 and 4473, and the second cut 1337, 2503, 4378 and 4879 kg ha-1, respectively. Yields of meadow fescue
followed a similar pattern. The first cut was about ten days and the second cut about one week earlier on P4 than
on P1. Shorter snow cover period, milder winters, higher live ground cover of timothy in spring, and higher temperature sum during the growing season were most likely responsible for the yield increase. The results indicate a strong impact of climate change on DMY of perennial forage crops in the north.