An Assessment of Storability of Norway Spruce Container Seedlings in Freezer Storage as Affected by Short-Day Treatment
Riikonen, Johanna; Luoranen, Jaana (2020)
---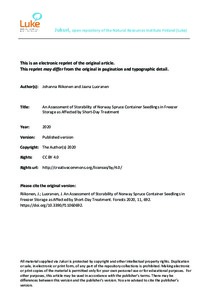 Riikonen, Johanna
Luoranen, Jaana
Julkaisusarja
Forests
Volyymi
11
Numero
6
Sivut
16 p.
Multidisciplinary Digital Publishing Institute (MDPI)
2020
Julkaisun pysyvä osoite on
http://urn.fi/URN:NBN:fi-fe2020072847679
Tiivistelmä
Determination of safe times at which to transfer seedlings to freezer storage is problematic in forest tree nurseries. The present study aimed to determine the relationship between pre-storage frost hardiness (FH) of different plant parts, dry matter content (DMC), chilling hours (the sum of hours when temperature was between −5 °C and +5 °C), and post-storage vitality, and the impact of short-day (SD) treatment on these relationships. One and a half year old control seedlings and SD-treated seedlings of Norway spruce were transferred to freezer storage (−3 °C) on five occasions during autumn. On each occasion, the FH of buds, needles, stem, and roots, as well as DMC, were determined, and chilling hours were calculated. The vitality of the freezer-stored seedlings was determined through their root growth capacity in the subsequent spring, and through the field performance of the seedlings (shoot growth and seedling damage) at the end of the following two growing seasons. Seedlings were considered to be storable when the FH of the needles was at least −25 °C, and the FH of the roots was about −10 °C in both treatments. Early storage reduced the vitality of the seedlings. SD treatment did not advance the storability of the seedlings, although it alleviated some of the negative effects of early storage by improving the FH of needles and stem, but not that of the roots. The DMC value, indicating storability, was higher for SD-treated seedlings than for control seedlings. When data from five experiments conducted in Suonenjoki were combined, it was found that the relationship between accumulation of chilling hours and needle FH was dependent on nursery treatment and assessment year, which reduces the reliability of using chilling hours in predicting the storability of Norway spruce seedlings. The predicted climate change may complicate the fall acclimation of seedlings. New, user-friendly methods for determining storability of seedlings are urgently needed.