Spruce Galactoglucomannan-Stabilized Emulsions Enhance Bioaccessibility of Bioactive Compounds
Zhao, Hongbo; Mikkonen, Kirsi S.; Kilpeläinen, Petri O.; Lehtonen, Mari I. (2020)
---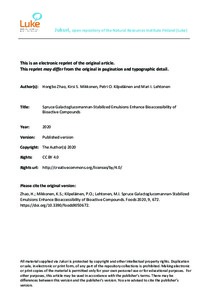 Zhao, Hongbo
Mikkonen, Kirsi S.
Kilpeläinen, Petri O.
Lehtonen, Mari I.
Julkaisusarja
Foods
Volyymi
9
Numero
5
Sivut
14 p.
MDPI AG
2020
Julkaisun pysyvä osoite on
http://urn.fi/URN:NBN:fi-fe2020052739289
Tiivistelmä
The increasing public awareness of health and sustainability has prompted the development of functional foods rich in health-promoting ingredients. Processing technologies and sustainable multifunctional ingredients are needed for structuring these formulations. Spruce galactoglucomannan (GGM), the main hemicelluloses in softwood cell walls, are an abundantly available, emerging sustainable food hydrocolloid that have the ability to efficiently emulsify and stabilize oil-in-water emulsions. In this study, we illustrate how this lignocellulosic stabilizer affects the digestion of polyunsaturated fatty acids (PUFAs) in vitro. A 100% decrease in the initial TAG content was observed during the in vitro digestion, suggesting that complete hydrolysis of the TAGs was achieved by the digestive enzymes. Besides, no release of mono-, di-, and oligosaccharides or phenolic compounds from GGM was detected. Our results demonstrate that the GGM-stabilized emulsion could potentially deliver lipophilic bioactive ingredients and enhance their bioaccessibility. In addition, this bio-stabilizer itself would remain stable in the upper gastrointestinal track and serve as a prebiotic for gut microbiota. We anticipate GGM to complement or even replace many of the conventional carriers of bioactive components in future health care products and functional foods.