Genealogical data of Boer and Nubian goats in Mexico
Larios-Sarabia, N.; Hidalgo-Moreno, J.A.; Núñez-Domínguez, R.; García-Muñiz, J.G.; Ramírez-Valverde, R.; Ben Zaabza, H. (2020)
---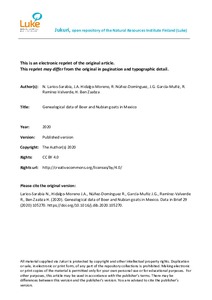 Larios-Sarabia, N.
Hidalgo-Moreno, J.A.
Núñez-Domínguez, R.
García-Muñiz, J.G.
Ramírez-Valverde, R.
Ben Zaabza, H.
Julkaisusarja
Data in Brief
Volyymi
29
Sivut
8 p.
Elsevier BV
2020
Julkaisun pysyvä osoite on
http://urn.fi/URN:NBN:fi-fe2020051435587
Tiivistelmä
The pedigree file of the Boer and Nubian goat breeds in Mexico was constructed using the national database provided by the Asociación Mexicana de Criadores de Ganado Caprino de Registro. Field technicians routinely updated the goat national database by recording information from flocks participating in the performance-recording system. Information on animal identification number, parents, birth date, sex, breed, and farm of origin were used to undertake pedigree analyses using the ENDOG program (version 4.8). This paper presents a pedigree data file, tables and figures of characteristics of pedigree data, pedigree analyses, pedigree integrity, effective population size and genetic conservation index. The data can be used to estimate other population parameters, to monitor the genetic diversity of the Boer and Nubian goat breeds in Mexico, and also to design balanced breeding programs, maintaining genetic variation at reasonable levels and maximizing genetic progress in these populations.