REDD+ policy translation and storylines in Laos
Ramcilovik-Suominen, S.; Nathan, I. (2020)
---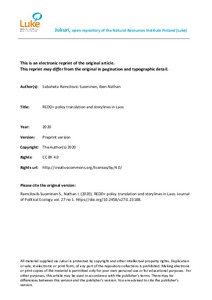 Ramcilovik-Suominen, S.
Nathan, I.
Julkaisusarja
Journal of Political Ecology
Volyymi
27
Numero
1
University of Arizona
2020
Julkaisun pysyvä osoite on
http://urn.fi/URN:NBN:fi-fe202003319809
Tiivistelmä
This article examines the (re)production of discourses and storylines in the process of policy translation of Reducing Emissions from Deforestation and Forest Degradation (REDD+) in Laos. Applying the concepts of policy discourses and policy translation, we first identify the prominent storylines at the various governance levels in Laos. Second, we compare and contrast these storylines with the global REDD+ discourses. Further, we discuss how different actors' capacities and political agendas shape REDD+ storylines at different levels of governance. We find that national and sub-national storylines portray REDD+ mainly as a tool for supporting Laos' forestry strategy and sustainable forest management; for capacity-building and donor funding; and for village forest management and education of villagers. At the village level, many see REDD+ as a project for various political elites and external actors to control forests and cheat villagers. We conclude that, while globally there is increasing attention to civic-environmentalism in REDD+, neoliberalist and techno-managerial discourses still dominate. At the village level, however, civic-environmentalist ideas, such as social safeguards, benefit sharing, and equity largely disappear and two opposing discourses emerge representing anti-civic ideas and REDD+ resentment. Furthermore, while techno-managerial ideas permeate all levels in Laos, neoliberalist ideas in terms of carbon trading are almost absent. During policy translation, REDD+ thus transforms into "just another" top-down development project. This serves the interest of Laos's techno-managerial elite well, but has little positive prospect for local people and forests. In this perspective, the lack of alternative discourse-coalitions promoting non-carbon benefits, social safeguards, and equity is striking.