From a rare inhabitant into a potential pest – status of the nun moth in Finland based on pheromone trapping
Melin, Markus; Viiri, Heli; Tikkanen, Olli-Pekka; Elfving, Riku; Neuvonen, Seppo (2020)
---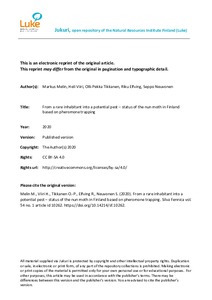 Melin, Markus
Viiri, Heli
Tikkanen, Olli-Pekka
Elfving, Riku
Neuvonen, Seppo
Julkaisusarja
Silva Fennica
Volyymi
54
Numero
1
Sivut
9 p.
Finnish Society of Forest Science
2020
Julkaisun pysyvä osoite on
http://urn.fi/URN:NBN:fi-fe202003117977
Tiivistelmä
Forests are being hit by climate change in various ways. This includes abiotic factors such as droughts, but also an increased risk of damage caused by biotic agents such as insects. There are numerous examples from cases where a pest insect has benefitted from endured growing season or from warmer summers. Similarly, new pest insects have been able to expand their range due to climatic conditions that have changed from hostile to tolerable.
Such seems to be the case with the nun moth (Lymantria monacha), Europe's most significant defoliator of coniferous trees. For centuries, the species has had massive outbreaks across Central-Europe while it has been only a rare inhabitant in Northern Europe. Recently, the nun moth population in Finland has not only expanded in range, but also grown more abundant. This research note describes the results from the first years (2018-2019) of a monitoring program that is being conducted with pheromone traps across central and southern Finland.
So far, the northernmost individuals were trapped near the 64 N degrees. However, there were more southern where no moths were trapped. The species was present in every trapping site below the latitude of 62 N degrees. More importantly, at some sites the abundance of the nun moth suggested that local forest damage may not be a distant scenario. Given the current climatic scenarios for Fennoscandia, it is likely that the nun moth populations will continue to grow, which is why systematic surveys on their abundance and range expansions are vital.