Six paths towards sustainability: a toolkit to promote a systemic transformation towards sustainable development in Finland
Furman, Eeva; Siivonen, Katriina; Linnanen, Lassi; Halme, Minna; Jaakkola, Jouni; Mönkkönen, Mikko; Saari, Juho; Salonen, Arto O.; Toivonen, Tuuli; Tolvanen, Anne; Soini, Katriina; Lyytimäki, Jari; Schönach, Paula (2020)
---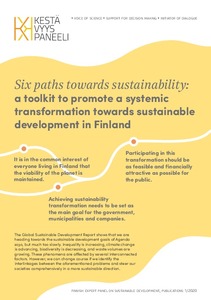 Furman, Eeva
Siivonen, Katriina
Linnanen, Lassi
Halme, Minna
Jaakkola, Jouni
Mönkkönen, Mikko
Saari, Juho
Salonen, Arto O.
Toivonen, Tuuli
Tolvanen, Anne
Soini, Katriina
Lyytimäki, Jari
Schönach, Paula
Julkaisusarja
Finnish expert panel on sustainable development, publications
Numero
1/2020
Sivut
7 p.
Natural Resources Insitute Finland, Helsinki Institute of Sustainability Science, Finnish Environment Insititute
2020
Julkaisun pysyvä osoite on
http://urn.fi/URN:ISBN:978-952-326-921-7
Tiivistelmä
The Global Sustainable Development Report shows that we are heading towards the sustainable development goals of Agenda 2030, but much too slowly. Inequality is increasing, climate change is advancing, biodiversity is decreasing, and waste volumes are growing. These phenomena are affected by several interconnected factors. However, we can change course if we identify the interlinkages between the aforementioned problems and steer our societies comprehensively in a more sustainable direction.