Carbon dioxide and methane exchange of a perennial grassland on a boreal mineral soil
Lind, Saara E.; Virkajärvi, Perttu.; Hyvönen, Niina P.; Maljanen, Marja.; Kivimäenpää, Minna.; Jokinen, Simo.; Antikainen, Sanna.; Latva, Mira.; Räty, Mari.; Martikainen, Pertti J.; Shurpali, Narasinha J. (2020)
---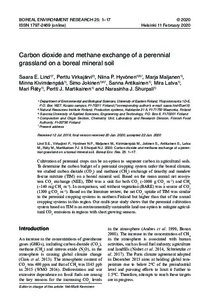 Lind, Saara E.
Virkajärvi, Perttu.
Hyvönen, Niina P.
Maljanen, Marja.
Kivimäenpää, Minna.
Jokinen, Simo.
Antikainen, Sanna.
Latva, Mira.
Räty, Mari.
Martikainen, Pertti J.
Shurpali, Narasinha J.
Julkaisusarja
Boreal environment research
Volyymi
25
Sivut
1-17
Boreal Environment Research Publishing Board
2020
Julkaisun pysyvä osoite on
http://urn.fi/URN:NBN:fi-fe202002135420
Tiivistelmä
Cultivation of perennial crops can be an option to sequester carbon in agricultural soils.
To determine the carbon budget of a perennial cropping system under the boreal climate,
we studied carbon dioxide (CO2) and methane (CH4) exchange of timothy and meadow
fescue mixture (TIM) on a boreal mineral soil. Based on the mean annual net ecosystem
CO2 exchange (NEE), TIM was a sink for both CO2 (–1000 g CO2 m–2) and CH4
(–140 mg CH4 m–2). In comparison, soil without vegetation (BARE) was a source of CO2
(1300 g CO2 m–2). Based on the literature review, the net CO2 uptake of TIM was similar
to the perennial cropping systems in northern Finland but higher than that of the annual
cropping systems in this region. Our multi-year study shows that the perennial cultivation
system based on TIM is an environmentally sustainable land-use option to mitigate agricultural
CO2 emissions in regions with short growing seasons.