Benefits of conserving agricultural genetic resources in Finland: Summary of the recent Finnish research and setting it in the international context
Tienhaara, Annika (2020)
---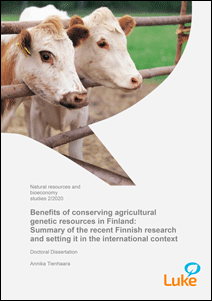 Julkaisusarja
Natural resources and bioeconomy studies
Numero
2/2020
Sivut
42 p.
Natural Resources Institute Finland (Luke)
2020
© Natural Resources Institute Finland (Luke)
Julkaisun pysyvä osoite on
http://urn.fi/URN:ISBN:978-952-326-896-8
Tiivistelmä
The diversity of agricultural genetic resources (AgGR) is the foundation of food security. A diverse gene pool enables adaptation to changing conditions and is therefore essential, for example, to responding to climate change. However, during the past decades, intensification of agriculture has led to genetic erosion. Previously common animal breeds and plant varieties are becoming rare or extinct throughout the world as they are being replaced with small ranges of more productive specialized breeds and varieties. Yet, indigenous breeds and varieties have a wide range of socio-economic, cultural, ecological and genetic values and, in fact, the importance of conserving genetic resources has been acknowledged in global agreements and national policy programs.
Nonetheless, as the resources available for conservation are limited, information on the value of AgGR is needed in order to compare the costs and benefits of conservation and to support decision making. Benefits from the conservation of AgGR can be measured from citizens' and consumers' preferences. This dissertation provides new, policy-relevant information on citizens' and consumers' willingness to pay for conservation and sustainable use of AgGR.
Three stated preference methods were used to examine the value that citizens and consumers place on AgGR. Consumers' willingness to purchase Finncattle meat and their willingness to pay for it was studied with contingent behavior and contingent valuation methods. In turn, willingness to support a conservation program for AgGR was examined with contingent valuation and choice experiment methods. In addition, heterogeneity in preferences and the effect of information use were analyzed.
The results show strong support for the conservation of AgGR. There is a high willingness to purchase Finncattle meat among Finnish consumers, and a share of respondents is willing to pay +20-26% more for Finncattle meat compared to conventional meat. Studies also revealed that over 70% of the respondents supported an AgGR conservation program despite the increased cost related to it. Average willingness to pay for the program was €50-170 depending on the method of calculation. However, there was significant heterogeneity among respondents' preferences. This is important to take into account, as ignoring the heterogeneity can lead to overestimation of benefit estimates.
This dissertation provides new information on the benefit estimates of the AgGR conservation in Finland, which has not been studied before. It also contributes to the globally scarce literature on citizens' and consumers' preferences related to AgGR. The results of this dissertation can be used in cost–benefit analysis and they can assist in designing optimal AgGR conservation policies.