Understanding the regional bioeconomy settings and competencies in 29 EU regions in 11 EU countries
Lier, Markus; Kärkkäinen, Leena; Korhonen, Kari T.; Packalen, Tuula (2019)
---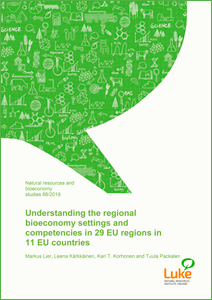 Lier, Markus
Kärkkäinen, Leena
Korhonen, Kari T.
Packalen, Tuula
Julkaisusarja
Natural resources and bioeconomy studies
Numero
88/2019
Sivut
28 p.
Natural Resources Institute Finland (Luke)
2019
© Natural Resources Institute Finland (Luke)
Julkaisun pysyvä osoite on
http://urn.fi/URN:ISBN:978-952-326-884-5
Tiivistelmä
This report presents the bioeconomy settings and competencies for 29 regions in 11 EU countries. The results of this study contribute to the further discussions with the planned EU bioeconomy policy support facility. The study results confirm the assumption that the main drivers for the transition towards a bioeconomy varies between EU regions. Region-specific socio-economic and ecological settings, legal framework, and social demands, and a long history of using natural resources are re-flected in the current development of bioeconomy sectors at regional level.
As for the legal settings, almost all of the study regions have formulated bioeconomy related strategies, policies and initiatives. Even if the bioeconomy related strategy is not explicitly called a bioeconomy strategy, it contains bioeconomy focused and related issues, e.g. EU bioeconomy objectives. The results show also that synchronizing regional bioeconomy monitoring-activities is necessary to ensure consistent and comparable results across all EU regions.
As for the current bioeconomy competences in the EU regions, our results show the diversity of the industries and activities included in the bioeconomy sector at regional level, even within the same country. The primary producers of bio-based raw materials, agriculture and forestry, are considered as part of the bioeconomy in almost all the regions studied. Naturally, regions with access to surface waters also consider fisheries and aquaculture as part of a region's bioeconomy. The results support the assumption that regions understand the ecological boundaries and sustainable use of bio-based raw materials from agriculture, aquaculture and fisheries, and raw materials from forestry.
When it comes to the manufacture of bio-based end-products, the traditional manufacturers of bio-based end-products, the food industry, was mentioned by the respondents as being the most included, followed by renewable energy and wood products industries. The sectors and activities (e.g. the chemical industry, construction, and pharmaceutical industry) that are currently not included at regional level need more attention in future. The same applies for industries and activities that focus on bio-based services, nature tourism, green care and recreation, transport of bio-based raw materials and products, and water purification and distribution.
Based on the study results we identified four measures for future discussions:
* Towards effective policies: screen the necessary and possible policy measures at regional and national level towards a better sustainable and circular bioeconomy.
* New value-chains through citizens-public-private partnership: investigate necessary and possible measures at regional and national level helping bioeconomy activities and sectors to grow.
* Enhance peer-to-peer exchanges: use EU-wide existing networks for mutual learning be-tween regions.
* Include citizens: increase the awareness of future societal and environmental challenges, and the role of a sustainable and circular bioeconomy in tackling them at regional level, national, EU and global level.