Legislation and voluntary actions regulating manure fertilization in the Baltic Sea Region
---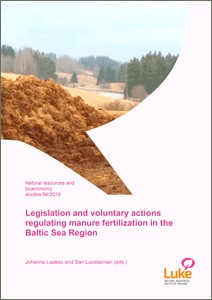 Toimittajat
Laakso, Johanna
Luostarinen, Sari
Julkaisusarja
Natural resources and bioeconomy studies
Numero
84/2019
Sivut
69 p.
Natural Resources Institute Finland
2019
© Natural Resources Institute Finland (Luke)
Julkaisun pysyvä osoite on
http://urn.fi/URN:ISBN:978-952-326-876-0
Tiivistelmä
While progress has been made in reducing external nutrient inputs to the Baltic Sea, further actions are still urgently needed especially to reduce agricultural nitrogen and phosphorus inputs. All fertilization should be optimized according to the soil quality, crop produced and local conditions to maximize crop nutrient uptake and minimize losses. Manure is a major organic fertilizer from animal production and more precise manure fertilization with manure is of significance in reducing nutrient runoff from agricultural fields.
In the European Union, the Nitrates Directive and The Water Framework Directive aim to reduce water pollution caused or induced by nitrate. They are also targeted to decrease diffuse water pollution from agricultural sources to achieve good qualitative and quantitative status of all water bodies. These directives are integrated into the national legislation of each EU member state which means that even though the directives set a certain level of regulation, they are differently adopted in the different countries.
The Regulation (EC) No 2003/2003 relating to fertilisers objects safe and effective fertilizers market throughout the EU and the new Fertilizing Products Regulation (EU) 2019/1009 will open the European market for recycled nutrient products, and subsequently also for nutrient recycling technologies to produce them. Manure is the major biomass for nutrient recycling and the fertiliser regulation will affect its management in the future.
In the Russian Federation, fertilizer use of manure is based on the Federal Laws "On Protection of Environment" and "On Production and Consumption Waste". Unprocessed manure is classified as a hazardous waste and hence its use as a fertilizer complies with the several federal laws on production and consumption waste, on protection of environment and on technical regulations. Practical solutions for manure management may still vary significantly.
This report compiles together legislation and voluntary actions regulating manure fertilization and fertilizer use in the Baltic Sea Region, in the following countries: Denmark, Estonia, Finland, Germany, Latvia, Lithuania, Poland, Russia and Sweden. Country-specific legislation on manure fertilization and fertilizer use is described in country-specific chapters.
The report has been made as part of the project "Advanced manure standards for sustainable nutrient management and reduced emissions", Manure Standards. It produces new, transnationally equal methods for manure data collection with the aim of improving the precision of data on manure nutrient content and quantity for practical farming and policymaking purposes. This is seen as an integral step towards more precise manure management and fertilization practices and subsequently reduced manure-related emissions.
This report is one of the outputs of Manure Standards' Work Package 5 "National and Baltic Sea Region actions for implementing new manure tools in manure policies and on farms". A common opinion of the project partners was that legislation and regulations controlling manure fertilization use in the countries should be compiled together as this information is diverse and has not been collected earlier.