The impacts of seals and cormorants experienced by Baltic Sea commercial fishers
Svels, Kristina; Salmi, Pekka; Mellanoura, Juhani; Niukko, Jari (2019)
---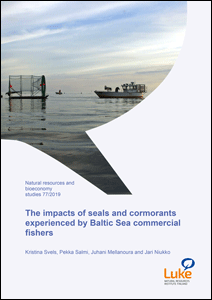 Svels, Kristina
Salmi, Pekka
Mellanoura, Juhani
Niukko, Jari
Julkaisusarja
Natural resources and bioeconomy studies
Numero
77/2019
Sivut
25 p. + 9 app.
Natural Resources Institute Finland
2019
© Natural Resources Institute Finland
Julkaisun pysyvä osoite on
http://urn.fi/URN:ISBN:978-952-326-854-8
Tiivistelmä
The growth of seal and cormorant populations has challenged the viability of coastal fisheries in the Baltic Sea. In 2017 widely spread frustration among local and regional fishery stakeholders generated a transnational cooperation project operated by the Fisheries Local Action Groups. The Baltic Sea Seal and Cormorant project aimed at producing new knowledge of the seal and cormorant induced problems, and at raising public awareness about the troubled situation in the Baltic Sea area. In co-operation with the Natural Resources Institute Finland the project launched a survey in 2018 to investigate the impacts of seal and cormorant populations on small-scale fishing livelihoods along the Baltic Sea coast. This report presents the main results based on 219 interviews conducted in 6 coun-tries.
The general picture of the Baltic Sea coastal fishers – the informants – shows a rather aging population of professionals with a long experience within their occupation. A common tendency is also the exercise of pluriactivity amongst the fishers, as fishing is usually not the only income source. The effects of seals and cormorants would often necessitate changes in fishing strategies and making investments, but the possibility for fishers to find new paths has become narrowed. In this situation engaging and attracting younger persons to become commercial fishers is challenging.
The findings confirm that the impacts of seals and cormorants are often serious obstacles for continuation of the fishing livelihood. According to the fishers the seals hamper coastal fishing livelihood more often than the cormorant, but regional differences exist. Moreover, the results show the multi-plicity of impacts, and the related complexities and uncertainties. According to fishers, seals typically cause direct effects such as reduction of catch, and damages in gear and on the fish. On the other hand, the cormorant was considered to cause more often indirect impact, such as changes in fish stocks and fish behavior. It is important to consider this multiplicity of impacts in discussions about the national and international seal and cormorant policies, as well as in research, planning and deci-sion making. Steps forward necessitate wide collaboration across sectors both regionally and internationally. Mitigation of the seal and cormorant induced problems should be designed together with fishers and other stakeholder groups.