Patterns of homozygosity in insular and continental goat breeds
Cardoso, Taina F.; Amills, Marcel; Bertolini, Francesca; Rothschild, Max; Marras, Gabriele; Boink, Geert; Jordana, Jordi; Capote, Juan; Carolan, Sean; Hallsson, Jón H.; Kantanen, Juha; Pons, Agueda; Lenstra, Johannes A.; The AdaptMap Consortium (2018)
---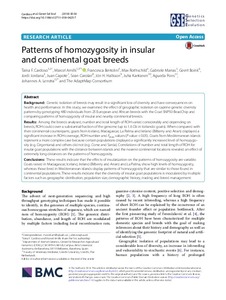 Cardoso, Taina F.
Amills, Marcel
Bertolini, Francesca
Rothschild, Max
Marras, Gabriele
Boink, Geert
Jordana, Jordi
Capote, Juan
Carolan, Sean
Hallsson, Jón H.
Kantanen, Juha
Pons, Agueda
Lenstra, Johannes A.
The AdaptMap Consortium
Julkaisusarja
Genetics Selection Evolution
Volyymi
50
Sivut
11 p.
BMC
2018
by
https://www.biomedcentral.com/about/policies/access-to-articles
This article is distributed under the terms of the Creative Commons Attribution 4.0 International License (http://creat iveco mmons .org/licen ses/by/4.0/), which permits unrestricted use, distribution, and reproduction in any medium, provided you give appropriate credit to the original author(s) and the source, provide a link to the Creative Commons license, and indicate if changes were made. The Creative Commons Public Domain Dedication waiver (http://creat iveco mmons .org/ publi cdoma in/zero/1.0/) applies to the data made available in this article, unless otherwise stated.