Coincidence of High Nature Value farmlands with bird and butterfly diversity
Mäkeläinen, Sanna; Harlio, Annika; Heikkinen, Risto K.; Herzon, Irina; Kuussaari, Mikko; Lepikkö, Katri; Maier, Andrea; Seimola, Tuomas; Tiainen, Juha; Arponen, Anni (2019)
---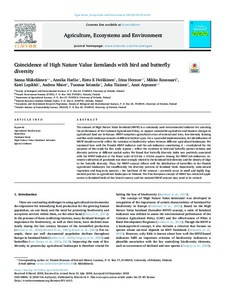 Mäkeläinen, Sanna
Harlio, Annika
Heikkinen, Risto K.
Herzon, Irina
Kuussaari, Mikko
Lepikkö, Katri
Maier, Andrea
Seimola, Tuomas
Tiainen, Juha
Arponen, Anni
Julkaisusarja
Agriculture, Ecosystems & Environment
Volyymi
269
Sivut
224-233
Elsevier Masson
2019
by
https://s100.copyright.com/AppDispatchServlet?publisherName=ELS&contentID=S0167880918304109&orderBeanReset=true
This article is available under the terms of the Creative Commons Attribution License (CC BY). You may copy and distribute the article, create extracts, abstracts and new works from the article, alter and revise the article, text or data mine the article and otherwise reuse the article commercially (including reuse and/or resale of the article) without permission from Elsevier. You must give appropriate credit to the original work, together with a link to the formal publication through the relevant DOI and a link to the Creative Commons user license above. You must indicate if any changes are made but not in any way that suggests the licensor endorses you or your use of the work.